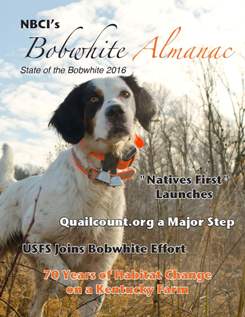 A new campaign to support using native grasses in federally-subsidized conservation programs on agricultural lands and the creation of a new technical website tailored to the needs of state biologists for reporting and analyzing habitat assessment and bobwhite/songbird monitoring results are among but a few of the highlights in the 6th State of the Bobwhite Report 2016 from the National Bobwhite Conservation Initiative (NBCI).
The 66-page annual report also examines a creative approach in Arkansas for monitoring a bobwhite focal area at Pea Ridge National Battlefield, the new relationship between NBCI and the U.S. Forest Service and what it means for bobwhite restoration on national forests, as well as delving into an enormous amount of bobwhite research being conducted in Oklahoma.  Also included are reports from states on their accomplishments in bobwhite conservation.
Check out "NBCI's Bobwhite Almanac, State of the Bobwhite 2016" on the NBCI website at https://nbgi.org/download/nbcis-bobwhite-almanac-state-of-the-bobwhite-2016/.  
About NBCI
Headquartered at the University of Tennessee Institute of Agriculture's Department of Forestry, Wildlife and Fisheries, NBCI is an initiative of the National Bobwhite Technical Committee (NBTC) to elevate bobwhite quail recovery from an individual state-by-state proposition to a coordinated, range-wide leadership endeavor. The committee is comprised of representatives of 25 state wildlife agencies, various academic research institutions and private conservation organizations. Support for NBCI is provided by the Federal Aid in Wildlife Restoration Program, state wildlife agencies, the Joe Crafton Family Endowment for Quail Initiatives, the University of Tennessee and Park Cities Quail. For more information, please visit www.bringbackbobwhites.org and find us on Facebook, YouTube and Slideshare.