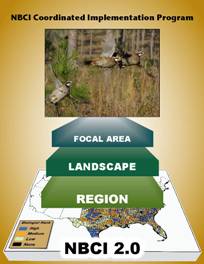 While NBCI 2.0 prioritizes where bobwhite restorations should take place, states do not currently have the resources to reach target densities across all the high and medium restoration potential regions of the BRI. The NBCI Coordinated Implementation Program provides the framework for large-scale habitat management programs for bobwhite using a tiered approach to landscape planning and action.
This scalable approach may assist landscape-scale restoration in states where resources and opportunities are currently limiting. Most importantly, NBCI's bobwhite focal area program—the NBCI Coordinated Implementation Program (CIP)—establishes a range-wide restoration roadmap founded by collaboration with clear targets and accountability.
The NBCI CIP was designed to demonstrate conclusively that bobwhite populations (as well as populations of other species) can be recovered when the proper amount and arrangement of habitat is provided on a landscape scale. There are currently 26 NBCI focal areas in 20 states, along with a similar-sized and located reference area for each. NBCI's vision is to grow the focal area concept to focal landscapes and then focal regions over time.
NBCI CIP focal area minimum standards include:
>1,500 acres (607 ha) of year-round quail habitat that comprises >25% of the area (5 to 10-year goal)
Annual breeding bird population point transects on focal and reference areas each spring
Annual fall covey call point transects on focal area each fall
Periodic habitat assessment transects (1st, 5th and 10th years)
Annual habitat management tracking on focal and reference Areas.
NBCI's unique approach has attracted widespread attention because of its standardization of protocols across the bobwhite range and NBCI's maintenance of the database at the University of Tennessee's Institute of Agriculture, which provides easy access for partners. Organizations wishing to partner with NBCI for data collection and analysis purposes should contact NBCI Director John Morgan at jmorga51@utk.edu.
CIP Enrollment
Click on a state to display the focal area details. For resources available to state quail coordinators, visit
QuailCount.org.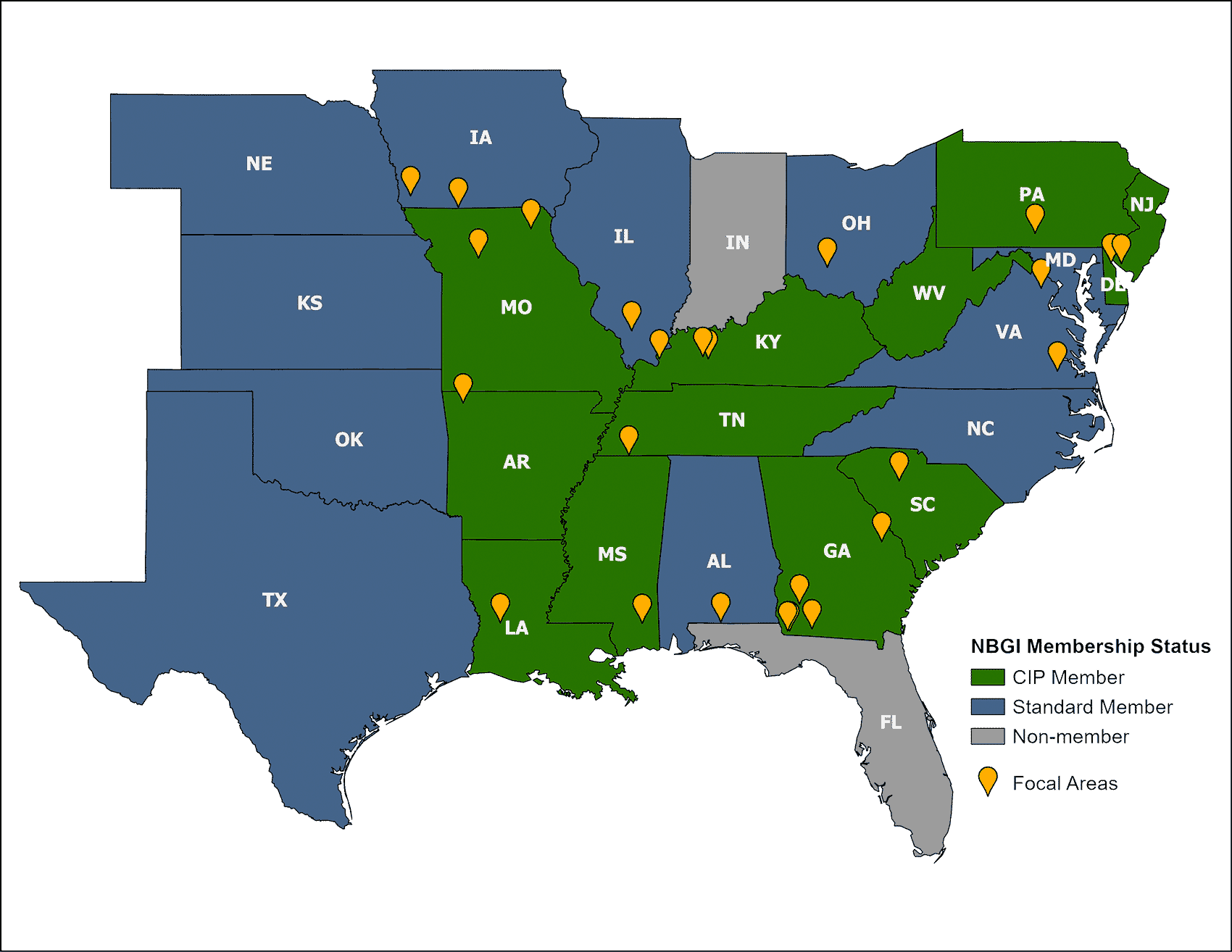 Iowa
Ringgold Focal Area
Acreage: 6,475 acres
Monitoring Points: 32 points
Collecting Data Since: 2013
Shawtee Focal Area
Acreage: 5,812 acres
Monitoring Points: 30 points
Collecting Data Since: 2014
Missouri
2C Focal Area
Acreage: 5,242 acres
Monitoring Points: 24 points
Collecting Data Since: 2013
Bee Ridge Focal Area
Acreage: 5,574 acres
Monitoring Points: 23 points
Collecting Data Since: 2018
Arkansas
Pea Ridge Focal Area
Acreage: 4,250 acres
Monitoring Points: 12 points
Collecting Data Since: 2017
Louisiana
Kisatchie National Forest – Vernon Focal Area
Acreage: 5,991 acres
Monitoring Points: 25 points
Collecting Data Since: 2017
Illinois
Burning Star Focal Area
Acreage: 4,451 acres
Monitoring Points: 24 points
Collecting Data Since: 2018
Kentucky
Livingston Focal Area
Acreage: 5,838 acres
Monitoring Points: 48 points
Collecting Data Since: 2013
Peabody Focal Area
Acreage: 3,074 acres
Monitoring Points: 14 points
Collecting Data Since: 2018
Wendell Ford Training Center Focal Area
Acreage: 3,088 acres
Monitoring Points: 13 points
Collecting Data Since: 2018
Tennessee
Wolf River Focal Area
Acreage: 3,119 acres
Monitoring Points: 13 points
Collecting Data Since: 2018
Mississippi
Leaf River Focal Area
Acreage: 3,549 acres
Monitoring Points: 15 points
Collecting Data Since: 2020
Alabama
Boggy Hollow Focal Area
Acreage: 6,878 acres
Monitoring Points: 24 points
Collecting Data Since: 2018
Ohio
Fallsville Focal Area
Acreage: 11,058 acres
Monitoring Points: 42 points
Collecting Data Since: 2015
Georgia
Silver Lake Focal Area
Acreage: 4,664 acres
Monitoring Points: 22 points
Collecting Data Since: 2018
Chickasawhatchee WMA Focal Area
Acreage: 7,000 acres
Monitoring Points: 48 points
Collecting Data Since: 2020
South Carolina
Indian Creek Focal Area
Acreage: 2,685 acres
Monitoring Points: 12 points
Collecting Data Since: 2016
Focal Area #2
In Development
Virginia
Big Woods/Piney Grove Focal Area
Acreage: 7,574 acres
Monitoring Points: 31 points
Collecting Data Since: 2013
Manassas National Battlefield Park Focal Area
Acreage: 4,424 acres
Monitoring Points: 19 points
Collecting Data Since: 2018
Pennsylvania
Letterkenny Focal Area
Acreage: 3,756 acres
Monitoring Points: 15 points
Collecting Data Since: 2017
New Jersey
Dix WMA Focal Area
Acreage: 6,146 acres
Monitoring Points: 15 points
Collecting Data Since: 2019
Delaware
Cedar Swamp Focal Area
Acreage: 1,694 acres
Monitoring Points: 14 points
Collecting Data Since: 2016