The National Bobwhite Conservation Initiative's (NBCI) priorities for the 2018 Farm Bill, a review of what the initiative has accomplished under the first three years Pittman-Roberson (Wildlife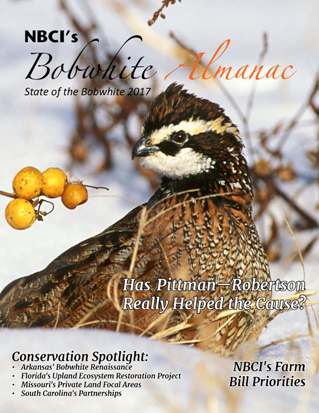 and Sport Fish Restoration Program) funding, and features on bobwhite restoration work in Arkansas, Florida, Missouri and South Carolina are a few of the highlights of the NBCI's Bobwhite Almanac: State of the Bobwhite 2017.
At 88 pages, it is the largest State of the Bobwhite report since it was first published in 2011, and "is increasingly found in the offices of regional and national decision makers that can help move the needle for bobwhites," said NBCI Director Don McKenzie. "It's become a recognized force in the building of partnerships on behalf of bobwhite restoration, as well as providing a range-wide snapshot of population, hunting and conservation  status across the 25-state range."
Additional content this year includes a look at how livestock could be a measurable factor in favor of bobwhites with a conversion of one-third of pastures into native forages and the application of prescribed grazing. Additionally, there is an analysis of the growth of NBCI's Coordinated Implementation Program for bobwhite focal areas across the range.
An electronic version of the report is available at https://nbgi.org/download/nbcis-bobwhite-almanac-state-of-the-bobwhite-2017/
About NBCI
Headquartered at the University of Tennessee Institute of Agriculture's Department of Forestry, Wildlife and Fisheries, NBCI is an initiative of the National Bobwhite Technical Committee (NBTC) to elevate bobwhite quail recovery from an individual state-by-state proposition to a coordinated, range-wide leadership endeavor. The committee is comprised of representatives of 25 state wildlife agencies, various academic research institutions and private conservation organizations. Support for NBCI is provided by the Federal Aid in Wildlife Restoration Program, state wildlife agencies, the Joe Crafton Family Endowment for Quail Initiatives, the University of Tennessee, Quail and Upland Game Alliance, Park Cities Quail and Roundstone Native Seed.