The National Bobwhite Conservation Initiative's (NBCI) newest bobwhite focal area—the fourth in a national forest and the first for Mississippi—has been designated within the 378,000-acre De Soto Ranger District, located between Hattiesburg and Biloxi.
The new 3,549-acre Leaf River Focal Area is located within the 42,000-acre Leaf River Wildlife Management Area (WMA) on the forest's De Soto Ranger District. The Leaf River Refuge that would eventually evolve into the WMA was established for the purpose of deer population recovery in 1939—a time when bobwhites were abundant. In a reversal of fortune, it will now aid quail population recovery. The designation brings the number of NBCI focal areas to 26 across 20 of the 25 NBCI member states, encompassing 163,748 acres.
The focal area is paired with a nearby 3,591-acre "reference" area, a requirement for all NBCI focal areas. It will enable comparisons of bobwhite abundance between the reference area, which will continue with standard habitat management techniques for the WMA, and the focal area, which will manage more specifically for bobwhite quail.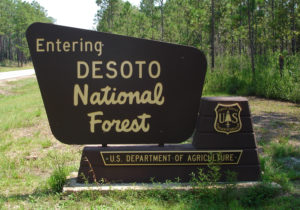 "In 2017, the regional forester signed an agreement with the NBCI management board to pursue establishment of NBCI bobwhite focal areas where it made sense," said U.S. Forest Service (USFS) De Soto Biologist Ed Moody. "Last fall, we were at an East Gulf Coastal Plan Joint Venture meeting in Alabama, and one of the activities was touring the bobwhite focal area on the Conecuh National Forest. We were impressed; all the potential partners were there so we decided to begin aggressively pursuing it."
"The primary difference in management on the focal area will be reducing the size of prescribed fires we normally conduct to reduce fuel loading to create a patchwork effect that appeals to bobwhites," said Moody. "We'll continue to thin where needed to create appropriate habitat conditions. Leaf River WMA is home to many threatened and endangered species, such as the red-cockaded woodpecker, dusky gopher frog, gopher tortoise and black pine snake. Active management of the longleaf pine ecosystem for these species also benefits other species, game and nongame, that share similar habitat requirements."
Mississippi Department of Wildlife, Fisheries, and Parks Small Game Biologist Rick Hamrick said, "The U.S. Forest Service will do most of the on-the-ground management like timber thinning and burning, because they own the land. We'll assist with bird counts, monitor quail hunting use and harvest, and provide management planning advice as the project progresses. We have a good regional WMA biologist with a bobwhite background and enthusiastic area staff, so the timing is good with the project starting to really move ahead."
"We're really excited that another state and another national forest have stepped up in support of bobwhites through our focal area program," said NBCI Director John Morgan. "The program has attracted widespread attention because of its learn-while-doing approach across the bobwhite range and NBCI's maintenance of the database at the University of Tennessee's Institute of Agriculture, which provides easy access and powerful management tools for partners."
To be enrolled in NBCI's Coordinated Implementation Program, habitat and bird surveys of a focal area and reference area must be periodically conducted over 10 years. The University of West Florida, via the Longleaf Alliance, has already conducted the habitat surveys. Each year, a spring bobwhite call count and a fall covey call count is required. Typically, those spring surveys also include other grassland/shrub land species of concern. Those counts must be done at the same pre-established survey points, which have already been established at Leaf River. The fall covey counts will start this month.
The Mississippi project is a joint effort of NBCI, the National Forests in Mississippi De Soto Ranger District, the Mississippi Dept. of Wildlife, Fisheries, and Parks, the Longleaf Alliance, University of West Florida and Camp Shelby Environmental.
The focal areas, which alone are not expected to restore bobwhite populations across the range, is a science-based approach to bobwhite habitat with consistent habitat and bird monitoring requirements, as well as reference or control areas for comparison purposes. The program is aimed at demonstrating bobwhite populations can be recovered when the proper amount and arrangement of habitat are provided. A landscape-scale focal area can conclusively prove that habitat (or lack of it) is the fundamental cause of long-term bobwhite quail decline and work to identify the management and cost needed for recovery.
About NBCI
Headquartered at the University of Tennessee's Institute of Agriculture/Department of Forestry, Wildlife and Fisheries, NBCI is a science and habitat-based initiative of the National Bobwhite Technical Committee (NBTC) to elevate bobwhite quail recovery from an individual state-by-state proposition to a coordinated, range-wide leadership endeavor to restore wild bobwhites on a landscape scale. The committee is comprised of representatives of 25 state wildlife agencies, various academic research institutions and private conservation organizations. Support for NBCI is provided by the Federal Aid in Wildlife Restoration Program, 25 state wildlife agencies, the Joe Crafton Family Endowment for Quail Initiatives, the University of Tennessee, Roundstone Native Seed, and Lotek. Media contact: John Doty, jdoty3@utk.edu
About MDWFP
The mission of the Mississippi Department of Wildlife, Fisheries, and Parks is to conserve and enhance Mississippi's wildlife, fisheries, and parks, provide quality outdoor recreation, and engage the public in natural resource conservation.
About USFS
The mission of the USDA Forest Service is, "To sustain the health, diversity, and productivity of the Nation's forests and grasslands to meet the needs of present and future generations." The Forest Service manages 193 million acres of forest lands with tribal governments, state and private landowners, and maintains the largest forest research organization in the world.