Once again, the various ways to support landscape-scale restoration of wild bobwhite quail were on display with the 2019 National Bobwhite Conservation Initiative's (NBCI) National Fire Bird Awards ceremony in Carbondale, IL, recently.
The award represents the historic and continuing reliance of bobwhites on fire in much of its range to maintain the landscape in the appropriate plant successional or structural stage, that is, in the native grasses, wildflowers, "weeds" and shrubby cover that provide bobwhites with suitable habitat. Both naturally-occurring fires and fires intentionally set by Native Americans for improved game populations and landowners to clear farm fields and woodlots historically resulted in abundant habitat for bobwhites, as well as other wildlife. The term "fire bird" in relation to bobwhites was first coined by naturalist Herbert Stoddard, who researched bobwhites and worked to restore bobwhite habitat in the early 20th Century.
Today, "prescribed" fire under controlled conditions by trained professionals has become an increasingly important tool for helping create and manage habitat for bobwhites, as well as a suite of songbirds and other wildlife that require early successional habitat to survive.
Award recipients are chosen by the respective NBCI-member state's quail coordinator for their contributions to that state's efforts toward habitat-based restoration of wild bobwhite populations. The awards are announced by the National Bobwhite Conservation Initiative (NBCI) at the annual meeting of the National Bobwhite Technical Committee, which was in Carbondale, IL, this year. Occasionally, the NBCI director will issue special recognition in the form of the NBCI Director's Fire Bird Award.
"We continue to provide an avenue to recognize and thank those making meaningful contributions to our science-based restoration agenda, and perhaps help encourage others to join our efforts and those of others in the future," said NBCI Director Don McKenzie. "We continue to need as many individuals, agencies and organizations as possible actively contributing to this unified 25-state strategy."
Director's National Fire Bird Conservation Awards
McKenzie recognized NBCI staffers Agriculture Liaison Tom Franklin and Grasslands Coordinator Jef Hodges for their respective roles in helping get native vegetation language placed in the Conference Report of the 2018 Farm Bill, a priority for several years and a game-changer for bobwhites and other grasslands wildlife:
"The Managers recognize the benefits of native vegetation to improve water and air quality and enhance soil health. By encouraging the adoption of native vegetation seed blends, USDA programs are supporting habitat restoration for the northern bobwhite, lesser prairie-chicken, greater sage-grouse, other upland game birds, songbirds, monarch butterflies, and pollinators. The Managers encourage the use of native vegetation where practicable."
 State-Based National Fire Bird Conservation Awards
Arkansas – Randy Brents
Since his hiring as the state's first prescribed fire manager in 2014, Randy Brents has overseen more than 184,000 acres of prescribed fire statewide, with 9,256 acres within designated quail emphasis areas in the state. While not physically implementing every acre personally, he oversees the agency's prescribed fire planning and implementation procedures statewide, including providing standardized procedures, direction and guidance for the planning and implementation of prescribed fire on all agency lands, including new guidelines for minimum training, minimum necessary experience and health standards for those employees participating in the prescribed burn program. His partnerships include being the Arkansas representative for the Southern Fire Exchange, a member of and instructor for the Arkansas Wildland Fire Academy, a member of the Arkansas Game & Fish Commission's Quail Team and an integral part of the restoration and management teams of the state's seven quail focal areas.
"Randy's been a driving force in the shift from solely dormant season prescribed burns to a burn season that mimics historical fire patterns … and is a great asset to the habitat program, the wildlife management division, the agency and the wildlife of Arkansas," said Marcus Asher, state quail coordinator.
Delaware – Brenna Ness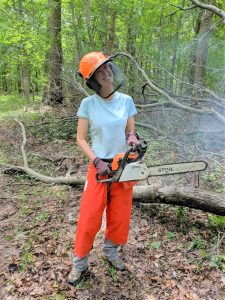 Prior to Brenna Ness' hiring in 2016, Delaware Wild Lands — a land trust that owns and protects over 21,000 acres of land in the state, (http://www.dewildlands.org/) had no land steward/conservation programs manager for its properties in New Castle County. Ness is tasked with managing thousands of acres across the county, but focuses on quail management activities on those areas adjacent to Delaware's NBCI Coordinated Implementation Program (CIP) focal area, burning 200-250 acres of saltmarsh and upland early successional habitats to control woody vegetation, exotic/invasive and promote native forbs and warm-season grasses. She converted 16 acres of exotics to native wildflowers on three properties and will convert 30 more acres this fall.
To combat erosion and improve water quality, Ness installed grassed waterways with native grasses and forbs that will provide habitat for quail and other grassland birds. She recently standardized all the organization's agricultural crop leases to require field buffers, especially those adjacent to water resources. She also engaged Delaware Wild Land's hunters and farmers to develop a strategic mowing plan that will promote winter cover for wildlife. In 2017, Ness initiated fall covey counts on her areas and this spring initiated their first spring breeding bird survey following the NBCI CIP protocol for monitoring bobwhites.
"This is important for internally comparing data within the state and for the potential future inclusion of some of Delaware Wild Lands tracts in Delaware's CIP focal area," said Justyn Foth, the state's quail coordinator.
Kansas – John Johnson
John Johnson has had an impact far beyond his management of a single wildlife area. Johnson's work as a contract habitat specialist at Fall River Wildlife Area led in 2012 to responsibility for the nearby 3,000-acre Woodson Wildlife Area, which straddles the transition from the Cross Timbers region to the Flint Hills region. Consequently, the western half is open prairie and the eastern half is dominated by post and black jack oaks, presenting two different habitat types to manage. He found a funding partner and began an oak savanna restoration, including thinning, glades creation and permanent firebreaks, which allowed the woods to be burned in smaller, separate plots. Invasive trees have been aggressively removed from the rangelands and the burning and grazing rotations redesigned so the timing of fire (spring/summer/fall) and the timing and intensity of grazing pressure is constantly changing to maximize habitat diversity. Johnson established habitat and bird monitoring (including fall covey counts), and established utilization exclusion devices within grazing units to monitor pasture utilization rates. Extensive plant surveys track plant diversity changes across the area.
Johnson has expanded the footprint of management beyond the wildlife area by hosting multiple field days and presented many programs to not only department personnel but also to private landowners, noxious weed directors and various professional meetings.
"With his background in range management, he speaks the language of the ranchers and has influenced many local land managers to adopt more quail and wildlife-friendly practices on their own ground," said Jeff Prendergast, the state quail coordinator submitting the nomination. "He has been able to do this by demonstrating how the rest rotations that increased diversity for birds are also improving the producer's bottom line, effecting landscape-level changes."
Kentucky – Kentucky Bobwhite Specialty License Plate Board
(Jack Porter, Ed Shuman, Richard Hines, Dave Howell, Mae McCay)
Kentucky released the Bobwhite Specialty License Plate in 2008 as a voluntary specialty license plate offered to the state's drivers. Ten dollars of the initial and renewal registration becomes a donation for bobwhite projects. The board reviews grants for these projects annually and makes decisions on which to fund up to $5,000. To date, the board has funded more than 50 projects totaling nearly $250,000, including seed programs with landowners, research on Peabody Wildlife Management Area and Bluegrass Army Depot, Livingston National Bobwhite Focus Area, Shaker Village, and most recently two vehicle wraps for department trucks.
"The license plate board has been pivotal in funding projects that leverage other funds," said John Morgan, state quail coordinator. "The board is progressive and supports bold ideas, highlighted by funding projects that benefit bobwhites through marketing and public relations efforts of the Kentucky Department of Fish and Wildlife Resources. Each board member spends countless hours sorting through grant applications and awarding funds to deserving efforts on a volunteer basis. No other non-profit in the state has contributed more directed funding to bobwhite projects outlined in the state's Bobwhite Restoration Plan than the license plate, contributing $30,000 annually to projects, most which fall directly in line with NBCI principles. Their vision, leadership and volunteerism embody the spirit of the Fire Bird Award."
 Missouri – Rick Rath
Rick Rath is a private lands conservationist with the Missouri Department of Conservation and responsible for the SAC River District of Cedar, Dade and Lawrence counties. The geography is dominated by grassland and woodlands. Most of the grassland is in very poor condition, comprised of continuously grazed fescue. His district also encompasses thousands of acres of Missouri's priority grassland conservation opportunity areas and parts of the 2 Quail Restoration Landscapes, the goal of which is to restore native grasslands and provide early successional grassland habitat, says David Hoover, the state's coordinator of quail efforts.
Rath began knocking on doors, finding key landowners in his district and winning their trust. Rath explains the benefits of using natives and proper grazing systems, then demonstrates them on his own farm where he and his family live. He has mastered the intricacies of Farm Bill programs and how they can help landowners achieve their goal. Rath conducted 235 farm visits over the past year, resulting in 44 LAP (state cost-share program) agreements totaling nearly $80,000, 28 EQIP and RCPP contracts totaling over $503,000, two landowners awarded Audubon Prairie Bird Initiative funding of over $23,000 and three landowners with USFWS Partner projects totaling nearly $19,000.
"These impressive results came from knocking on doors, working odd hours, answering the phone on weekends and evenings, holding multiple workshops, highlighting landowners employing great habitat practices and being vested in his community," said Hoover. "Rick's work with multiple landowners converting fescue to native grasses and forbs, prescribed burning, the development of bird-friendly grazing systems, deferred haying and exotic species removal has resulted in positive changes at a landscape scale that are a model for other staff that work with private landowners."
 Oklahoma – Alva Gregory (in memoriam)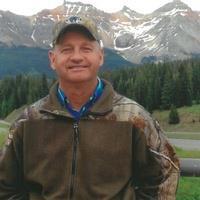 Although Alva Gregory passed on May 1, 2019, at 55, Tell Judkins, the state's quail coordinator, said "northwestern Oklahoma lost one of its greatest wildlife warriors and "it's important for all, including his family, to know that the lands impacted by his efforts will live on for years to come."
Gregory worked for the Oklahoma Department of Wildlife Conservation for 31 years and was previously recognized as Wildlife Technician of the Year in 2017, Habitat Coordinator of the Year in 2013, and received the Oklahoma Chapter of the Wildlife Society's Oklahoma Award for his contributions to wildlife management in 2018. He worked at Beaver River WMA, Packsaddle WMA and finally in the Woodward office as the Northwestern Oklahoma Habitat Coordinator, building relationships with landowners that allowed habitat improvement for numerous grassland birds, and working to promote the reconnection of upland bird species to the landscape in agricultural and cattle production.
In 2018 alone Alva met with more than 37 landowners in 16 counties for an impact on more than 45,400 acres, presented to the Natural Resources Conservation Service, US Fish & Wildlife Service, National Wild Turkey Federation, Dewey County Commission, the Northwest Cattlemen's Association and he assisted with field days by Oklahoma State University's Extension Office.
"Northwestern Oklahoma is known by many as true quail country, but without the influence of Alva Gregory, I'm not sure that would be the case," said Judkins. "I often tell people if you see a property in northwest Oklahoma that has no cedar trees you have Alva to thank for it."
Pennsylvania – John M. Wakefield
The chief of the Wildland Fire Logistics and Training Division for the Pennsylvania Game Commission, John Wakefield has been an avid supporter of the state's quail restoration efforts from the beginning. Understanding that prescribed fire would play a crucial role both during habitat establishment and maintenance over the long term, Wakefield took the lead on fire planning and development for the first bobwhite focus area – Letterkenny Army Depot.
"Trying to convince senior staff of a military installation to put fire over hundreds of thousands of pounds of missiles and bombs to manage habitat is not an easy sell," said Thomas Keller, state quail coordinator. Wakefield answered questions, worked with everyone involved and coordinated a test fire over an empty underground storage container to demonstrate to depot manager the safety and control with which fire could be conducted. He helped develop a solid burn plan and began coordinating prescribed burns, keeping everyone involved and engaged, according to Keller.
"From a biologist's point of view, John has been fantastic to work closely with as he is open and interested in how we can tailor fire to assist quail management on a detailed scale, focusing more on quality that quantity." While Wakefield oversees a burn program that conducts more than 10,000 acres of prescribed fire annually he has always made the Letterkenny project a priority, personally acting as "burn boss" for every fire.
South Carolina – Enoree Ranger District/Sumter National Forest
In the early 2000s, a group of concerned agencies discussed the possibility of creating more and better habitat for grassland birds. The Indian Creek project gathered steam, successfully integrating public and private lands. When it came to choosing an NBCI CIP focal area, it was a natural fit. In the last year, however, the Enoree Ranger District of Sumter National Forest adopted several practices that have proven quite beneficial to bobwhites.
For instance, small burn blocks are often not feasible for an agency that has to manage thousands of acres, however, the Enoree District was willing to try 50-100-acre burn blocks with the CIP focal area. The experiment was a success, proving not only beneficial to bobwhites with premium habitat creation but also providing the district more opportunity to burn because they could burn smaller blocks when conditions would not allow larger burns.
The district is also proactive in identifying partners to assist with other management issues. Within the last year the USFS signed agreements enabling the Enoree Ranger District to work with state agencies to decrease the time it takes to perform timber harvests. Agreements include Good Neighbor Authority agreement with the SC Forestry Commission and the SC Department of Natural Resources, and a stewardship agreement with the latter agency.
Finally, the district initiated a solution to one of the traditional issues in quail management, connectivity. Systematic timber harvests are proposed to connect several areas managed for open pineland, grassland birds and prairie, connecting the Indian Creek Focal area to other large open land habitat areas and creating a landscape-level change. The required amendment process to their resource management plan is underway.
Tennessee – Kyle Brazil
University of Tennessee PhD candidate Kyle Brazil designed the state's sole NBCI/CIP focal area at Wolf River Wildlife Management Area (WMA) over the past year. Brazil supervised the technicians that collected the required data and entered the data into the NBCI system.
"The CIP is an important step toward restoration of quail in Tennessee because it now puts some true focus on the species," said Roger Applegate, state quail coordinator. "We would not have a CIP without Kyle. The CIP has already generated funding interest both inside and outside the agency and it is now a model for how we should approach WMA management."
Virginia – The Nature Conservancy/Virginia
One of the biggest proponents of prescribed fire in Virginia, The Nature Conservancy has promoted and hosted numerous workshops, played key roles in the Department of Forestry's coordinated annual fire academy, mentored new fire practitioners for numerous partners, assisted multiple partners in managing multiple thousands of acres of pine savanna with prescribed fire, and acquired 3,200 acres to establish Piney Grove Preserve, which is Virginia's largest block of pine savanna habitat and is home to an expanding red-cockaded woodpecker populations in southeastern Virginia (and also benefiting bobwhites and other species). Additionally, they provided financial support for the state purchase of 15,000 acres of land for longleaf pine restoration, they assist with establishing and managing of the largest privately-owned longleaf pine tract in Virginia, and staff serves as leaders in the interagency Longleaf Cooperators of Virginia.
In partnership with the Virginia Department of Game and Inland Fisheries and the Virginia Department of Forestry, TNC's Piney Grove Preserve, DGIF's Big Woods Wildlife Management Area and the Department of Forestry's Big Woods State Forest comprise Virginia's Piney Grove—Big Woods NBCI CIP Focal Area. The Nature Conservancy has embraced the CIP, actively participating in monitoring which shows the quail population is increasing, and expanding the use of prescribed fire and other management techniques on the area each year.