This month's BLOG is not only late – it is short and to the point.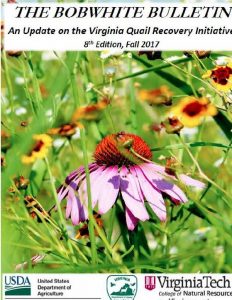 I am proud of our Private Lands Wildlife Biologist team. We have become known as the "Quail team" but this group of biologists is so much more than that. Their capabilities have grown to include a wide array of habitat management skills across a wide range of ecosystems. And they continue to improve and broaden their capabilities. It is hard to believe they have been working with us for almost 8 years now. Many of them are playing key roles in the quail world.
Most recent examples include leading a major marketing strategy for the Communications Subcommittee of the National Bobwhite Technical Committee, and playing key roles in the design of the Natural Resources Conservation Service's Working Lands for Wildlife Program's new Cattle and Quail Initiative for Virginia – providing a template for many other states involved. They called themselves the B.I.G. Team – for Bobwhites in Grasslands. The link provided with this BLOG will take you to their latest edition of the Bobwhite Bulletin. It speaks for itself. We hope you enjoy it.
Happy fall!!