The National Bobwhite Conservation Initiative (NBCI) moved a step closer to two of its major goals for landscape restoration of wild bobwhites – reconnecting cattle and quail, and reconnecting forests and quail – when the Natural Resources Conservation Service (NRCS) announced the approval Tuesday of two NBCI-led proposals to recognize bobwhites in the NRCS Working Lands for Wildlife (WLFW) program.
When announcing approval of the projects on a Missouri farm, NRCS Chief Jason Weller said "We were really pumped to receive two bobwhite proposals. These projects represent what's best for America—family ownership, conservation, helping communities and partnerships."
"With a goal of affecting 232,000 targeted acres in 13 states by fiscal year 2018, this WLFW accomplishment may be the largest concentrated effort ever applied to reintegrating wild bobwhites into this nation's working landscapes," said NBCI Director Don McKenzie.
The grasslands proposal targets 150,000 acres in eight states — Arkansas, Illinois, Indiana, Kentucky, Missouri, North Carolina, Ohio and Virginia — and will provide technical and financial assistance to landowners interested in converting pastures of exotic, endophyte-infected fescue to drought-tolerant native grasses and wildflowers, along with developing prescribed grazing plans.
"It is estimated that as much as 85% of tall fescue is infected with an endophyte fungus that causes cattle a wide range of problems," said McKenzie. "And as a cool-season grass, fescue doesn't produce nearly as well as natives during the droughty summer months. A strategic landscape-scale mixture of native warm-season grasses and forbs that complement prevalent introduced cool-season forages will help producers, cattle, quail and other grasslands wildlife."
Additionally, the Center for Native Grasslands Management at the University of Tennessee has offered to provide "Train the Trainer" sessions for partner biologists and NRCS staff on establishing and managing native grasses for grazing and wildlife.
The forestlands proposal targets 82,000 acres across six states –  Alabama, Florida, Georgia, New Jersey, North Carolina and South Carolina – and will provide technical and financial assistance to landowners interested in restoring declining pine savanna habitat using native grasses, timber thinning and prescribed fire.  Pine savanna is a diverse ecosystem supporting bobwhites and more than 300 other species.
"These projects, which are very targeted for maximum impact, were coordinated by NBCI and approved by the NRCS State Conservationists in each participating state," said McKenzie.  "Numerous close partners played key roles, including the UT Center for Native Grasslands Management, the Central Hardwoods Joint Venture, the Georgia Department of Natural Resources, NRCS state and regional offices, various state wildlife agency quail coordinators, and the National Bobwhite Technical Committee's grasslands/grazing lands, agriculture and forestry subcommittees."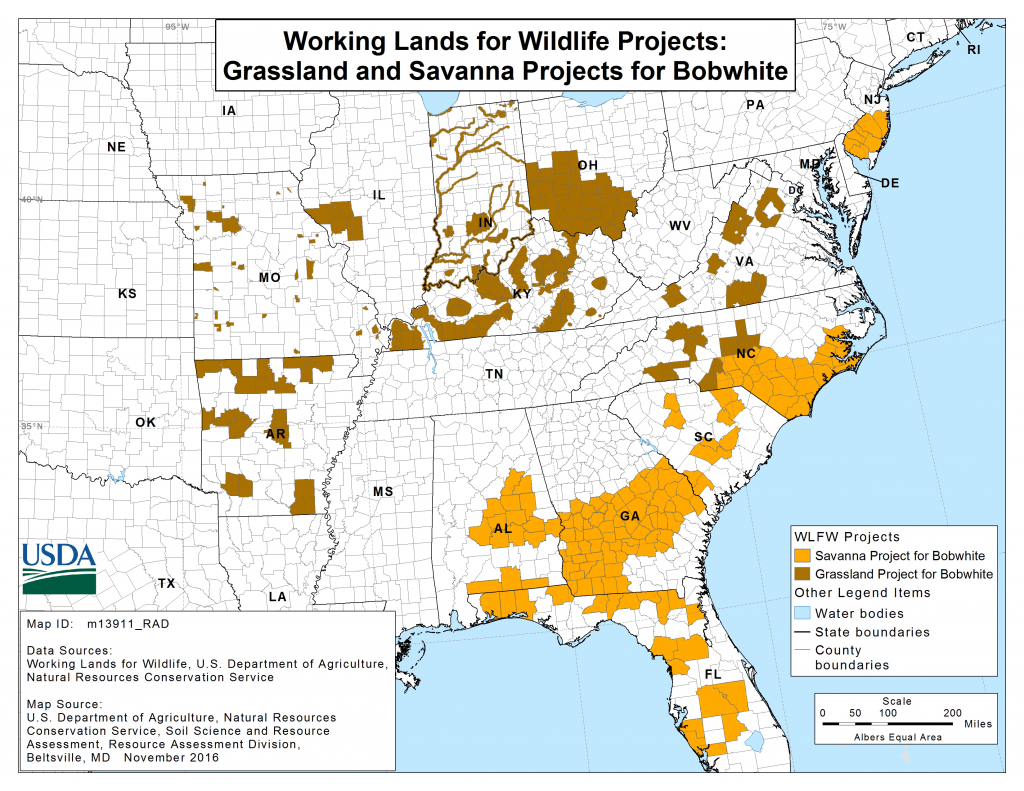 About NBCI
Headquartered at the University of Tennessee Institute of Agriculture's Department of Forestry, Wildlife and Fisheries, NBCI is an initiative of the National Bobwhite Technical Committee (NBTC) to elevate bobwhite quail recovery from an individual state-by-state proposition to a coordinated, range-wide leadership endeavor. The committee is comprised of representatives of 25 state wildlife agencies, various academic research institutions and private conservation organizations. Support for NBCI is provided by the Federal Aid in Wildlife Restoration Program, state wildlife agencies, the Joe Crafton Family Endowment for Quail Initiatives, the University of Tennessee and Park Cities Quail. For more information, please visit www.bringbackbobwhites.org and find us on Facebook, YouTube and Slideshare.