GALLOWAY, New Jersey — The contributions to wild bobwhite restoration by entities and/or individuals in six National Bobwhite Conservation Initiative (NBCI) member-states claimed NBCI National Fire Bird Conservation Awards during ceremonies at the annual meeting of the nation's bobwhite experts here recently.
Award recipients are nominated by the respective NBCI-member state's quail coordinator for their contributions to that state's efforts toward habitat-based restoration of wild bobwhite populations on a landscape scale.
"NBCI provides this avenue for states to recognize and thank those making meaningful contributions to the science-based restoration agenda, and perhaps help encourage others to join their efforts," said NBCI Director Don McKenzie. "We need as many individuals, agencies and organizations as possible actively contributing to this unified 25-state strategy."
The award's name symbolizes the historic reliance of bobwhites on fire in much of its range to maintain the landscape in an "early successional" stage, that is, in the native grasses, wildflowers and "beneficial weeds" providing bobwhites with suitable habitat. Both wildfires and fires intentionally set by landowners to clear farm fields and woodlots historically resulted in abundant habitat for bobwhites, as well as other wildlife. The term "fire bird" in relation to bobwhites was first coined by naturalist Herbert Stoddard, who researched bobwhites and worked to restore bobwhite habitat in the early 20th Century.
Today, "prescribed" fire under controlled conditions by trained professionals has become an increasingly important tool for helping create and manage habitat for bobwhites, as well as a suite of songbirds, pollinators and other wildlife that require early successional habitats to survive.
2015 award recipients were:
FLORIDA – Upland Ecosystem Restoration Project Steering Committee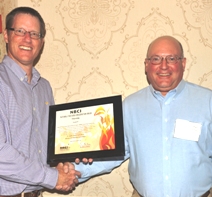 Florida's Upland Ecosystem Restoration Project (UERP) Steering Committee has provided the leadership in increasing the use of prescribed fire on the landscape and having over 110,000 acres of public lands managed for bobwhites.
UERP is a cooperative partnership between the Florida Forest Service, Florida Park Service, Florida Fish and Wildlife Conservation Commission, U.S. Forest Service and Tall Timbers Research Station to improve populations of bobwhites and other declining species on public lands throughout Florida.
Florida leads the nation in the application of prescribed fire, issuing over 100,000 burn authorizations allowing landowners and state and federal agencies to conduct prescribed burning on an average of 2 million acres each year. Most importantly, a large percentage of these acres are burned on a 1 – 3 year frequency in an effort to maximize the early successional habitat these species require, a primary objective of the UERP Steering Committee.
UERP Steering Committee membersinclude: Jim Karels, director, Florida Forest Service; Parks Small, chief, Florida Park Service; Eric Sutton, assistant executive director, Florida Fish and Wildlife Conservation Commission; Marianne Gengenbach, program administrator, Florida Division of State Lands; Dr. Bill Palmer, president/CEO, Tall Timbers Research Station; and
Lane Green, North Florida Prescribed Fire Council Steering Committee.
KENTUCKY – Shaker Village of Pleasant Hill
Shaker Village of Pleasant Hill (SVPH) is one of the Kentucky Department of Fish and Wildlife Resources' (KDFWR) strongest allies in bobwhite restoration. Beginning in 2009, SVPH began the transition from the cattle business into a wildlife habitat management role, specifically focusing on bobwhite. Fast-forward six years and with more than 1,000 acres of high quality bobwhite habitat on the ground, SVPH is now known locally, regionally and nationally as one of the largest quail restoration success stories in the country.
KDFWR has used SVPH as a springboard to validate its 10-year quail restoration plan, "Road to Recovery." The property has been a proving ground to demonstrate that habitat restoration truly is the answer to restoring wild bobwhite.  Kentucky was one of a few states to pilot test the NBCI's Coordinated Implementation Program (CIP) protocol.  Prior to pilot testing, Shaker Village was the site for the first meetings to create the national CIP and was recently home to the first ever CIP training attracting representatives for 14 states to learn about the new protocol.
In past years, hunting was not allowed on SVPH property. Today, quail, deer, and other small game hunters are regularly seen on the property, with all proceeds from the hunts going directly to manage and maintain the SVPH habitats.
LOUISIANA — Christian Winslow & Sandy Hollow WMA Burn Team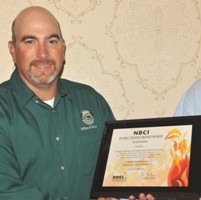 Sandy Hollow Wildlife Management Area is the state's only WMA dedicated to bobwhites.  Winslow and his colleagues with the Louisiana Department of Wildlife and Fisheries' burn team assess habitat response and burn needs annually, then conduct prescribed burns using small patch burning at a rate of 2,000 acres annually — with plans to increase burn acres in future years.
Bobwhite numbers observed in annual summer whistle counts have trended upward since the early 2000's in response to these efforts, and under Christian's leadership other quail friendly practices are also increasing, including fallow disking, wildlife plantings, and timber harvests. The Sandy Hollow team created and maintains some of the highest quality bobwhite habitat in the state. Sandy Hollow burn team staff includes Tommy Bruhl, Jill Day, Calvin Waskom, Wade Fitzsimmons, Jake Tate, and Jason Childress.
MISSOURI — Kyle Hedges and Frank Loncarich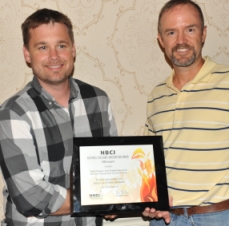 As Missouri Department of Conservation public land managers with responsibility for a combined 26,000 acres in southwest Missouri, Hedges and Loncarich have demonstrated convincingly that bobwhites can be a part of a native grassland management program built upon grazing and prescribed fire. While these tools are commonly applied for bobwhite management in range country, they have often been approached with hesitation and skepticism in the Midwest, where public – and often agency – perception is that grazing is inherently bad for natural resources. Their work has clearly shown that these powerful management tools can be applied in Midwestern landscapes with positive results for grassland flora and fauna. The pair also recently proposed and earned approval for a long-term study of the effects of different native-forages grazing management styles on bobwhite breeding ecology. Now midway through the study, this project shows promise to fundamentally change MDC's approach to quail management on many public lands.
TENNESSEE – Clint Borum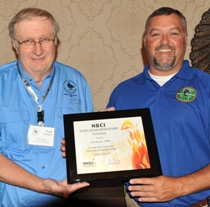 As a biologist for Tennessee's Landowner Incentive Program (LIP), Borum has integrated bobwhite quail habitat into most of the private lands contracts that he has managed, and he has emerged as one of best "bobwhite arsonists" in the state. Borum averages 12 prescribed burns per year to improve bobwhite habitats, and handles many technical assistance calls from landowners annually. He also has identified how to successfully integrate quail habitat into management plans for landowners whose primary interests are often deer and turkey.
VIRGINIA – Robert "Bob" Glennon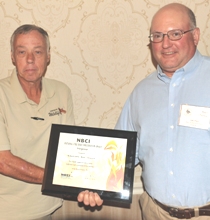 Retired from the US Department of Agriculture Natural Resources Conservation Service (NRCS) after years as a plant materials specialist, ecologist, natural resource planner and manager of the National Farm and Ranchland Protection Program, Robert "Bob" Glennon has contributed his expertise to the Virginia Department of Game and Inland Fisheries' Quail Team for more than four years. His emphasis is on outreach and he routinely attends and displays posters oriented toward quail recovery at multiple conservation events annually. He is a routine contributor to the state's Virginia Bobwhite Bulletin page on Facebook and has spent innumerable hours mentoring the team's young biologists, helping them develop a superior knowledge of plants and herbicides, and the role they each play in quail management.
<
p class="Default" align="center">###
Headquartered at the University of Tennessee's Institute of Agriculture, NBCI is an initiative of the National Bobwhite Technical Committee (NBTC) to elevate bobwhite quail recovery from an individual state-by-state proposition to a coordinated, range-wide leadership endeavor. The committee is comprised of representatives of 25 state wildlife agencies, various academic research institutions and private conservation organizations. Funds for NBCI are provided from a variety of sources, including the respective state wildlife agencies, the Wildlife Restoration Program and Park Cities Quail.
August 13, 2015