GALLOWAY, New Jersey — The Center for Native Grasslands Management (CNGM) at the University of Tennessee Institute of Agriculture took home one of two Awards for Group Achievement presented by the National Bobwhite Technical Committee (NBTC) during the group's annual meeting here recently.
The center, established in 2006 in Knoxville, Tennessee, provides technical and economic information to producers and land managers for establishing and managing native grasses on "working lands." Replacement of a portion of exotic, cool season pasture grasses with native warm season grasses is a key objective of both the NBTC and the 25-state National Bobwhite Conservation Initiative (NBCI) in their efforts to restore wild bobwhites to the landscape while providing producers an economic buffer in times of drought.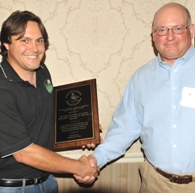 "Their work has emphasized forage production, biofuels and the integration of both, along with restoration of native grassland plant communities, oak savannas/woodlands and the wildlife conservation aspects of native grasslands management," said NBTC's Marc Puckett, awards committee chair. Puckett said the center also focuses on making information widely available through respective state Extension Service offices.
"The sheer volume of exotic, cool season grasses in the East that could be converted to native warm-season grasses, and the likelihood that those grasses can be profitably managed for cattle in large blocks more conductive to grassland birds, provides hope that open spaces with suitable habitat required by grassland wildlife can continue to be a part of the landscape," said Puckett.
NBTC is the technical advisory group to the National Bobwhite Conservation Initiative, the habitat-based strategy of 25 state wildlife management agencies to elevate wild bobwhite restoration to regional and national levels. It meets annually to review progress and help identify opportunities and obstacles to bobwhite restoration.
Headquartered at the University of Tennessee's Institute of Agriculture, NBCI is an initiative of the National Bobwhite Technical Committee (NBTC) to elevate bobwhite quail recovery from an individual state-by-state proposition to a coordinated, range-wide leadership endeavor. The committee is comprised of representatives of 25 state wildlife agencies, various academic research institutions and private conservation organizations. Funds for NBCI are provided from a variety of sources, including the respective state wildlife agencies, the Wildlife Restoration Program and Park Cities Quail.