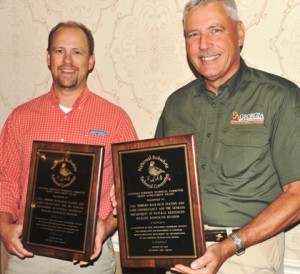 Dr. Theron M. Terhune of Tall Timbers Research Station and Reggie Thackston of the Georgia Department of Natural Resources accept the NBTC Award for Group Achievement
GALLOWAY, New Jersey — The development of an innovative transplantation or relocation policy for wild bobwhites by Tall Timbers Research Station and Land Conservancy (TTRS) and the Wildlife Resources Division of the Georgia Department of Natural Resources garnered an Award for Group Achievement from the National Bobwhite Technical Committee (NBTC) at its annual meeting here recently.
The entities were cited for "exemplifying collaborative efforts and thinking outside the box" in developing the ability – and process – for relocating wild bobwhites. This process is being viewed as a viable method in assisting areas or even states where wild birds have disappeared to jumpstart population recovery if there is sufficient quantity and quality of habitat.
"For years quail professionals routinely believed that wild quail transplantation had little potential to provide real gains for bobwhites," said Past NBTC Chair and Awards Committee Chair Marc Puckett of Virginia. "Using techniques pioneered by the Albany (Georgia) Area Quail Project and TTRS in the late 1990s, they have developed an innovative approach that has resulted in the transplantation of 1,275 wild quail to five properties totaling over 18,700 acres in Georgia and Florida, and another 1,750 wild bobwhites to nine properties totaling over 70,000 acres in six other states."
Headquartered at the University of Tennessee's Institute of Agriculture, NBCI is an initiative of the National Bobwhite Technical Committee (NBTC) to elevate bobwhite quail recovery from an individual state-by-state proposition to a coordinated, range-wide leadership endeavor. The committee is comprised of representatives of 25 state wildlife agencies, various academic research institutions and private conservation organizations. Funds for NBCI are provided from a variety of sources, including the respective state wildlife agencies, the Wildlife Restoration Program and Park Cities Quail. 
August 12, 2015