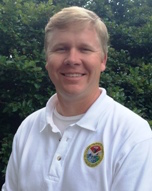 Michael Hook is the South Carolina Department of Natural Resources' (SCDNR) new "quail coordinator" and Small Game Program Leader. Hook filled the position left by Willie Simmons, now a regional coordinator for the wildlife section. Hook will represent South Carolina on the National Bobwhite Technical Committee and play an active role in the National Bobwhite Conservation Initiative on behalf of the state,
Hook obtained a B.S. in Resource Management at Clemson University and worked as an SCDNR  wildlife technician at Crackerneck Wildlife Management Area and Ecological Reserve for four years, then began a stint with the Aquatic Nuisance Species Program while earning his M.S. in Environmental Resource Management at the University of South Carolina.  Following a decade as the program's field supervisor he recently rejoined the Wildlife Section as the Small Game Program Leader overseeing the quail, dove, rabbit and fox squirrel projects.
"Every morning when I come into my office and I see that big quail poster on my door, I think to myself 'This is my job, this is what I get to do today' and I just have to smile," said Hook. "To be able to get back into the wildlife field is exciting in itself but to get to work with quail, a passion of mine in the field , is really the icing on the cake.  It just doesn't get any better than making a career out of something you love."
Michael is an avid outdoorsman who fishes and hunts for whatever is in season. He and his wife, Amanda, have a three-year-old son, Holden, and a Boykin Spaniel, Molly, who earns her keep retrieving ducks and doves, kicking up quail and woodcock, and keeping the backyard free of squirrels.
Hook can be contacted at (803) 734-3940.