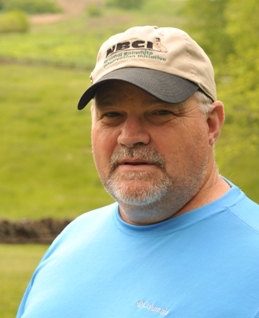 Steve Chapman, a Certified Forester and a Georgia Registered Forester with 30 years of experience and a reputation of working closely with Georgia Wildlife Division biologists to create wildlife habitat in forested settings, has been selected as the new forestry coordinator for National Bobwhite Conservation Initiative (NBCI).
Chapman will promote NBCI's forested grassland habitat objectives for bobwhites and other grassland birds at national, regional and state levels, including serving as a liaison and technical resource for state, federal and other conservation entities, engaging the U.S. Forest Service at regional and national levels to increase opportunities for bobwhite habitat projects and working to improve forest management and prescribed fire policies in support of forested grasslands habitat range-wide.
A graduate of the University of Georgia's Warnell School of Forestry and Natural Resources with a B.S. in Forest Resources, Chapman worked with the Georgia Forestry Commission for 27 years before launching his own habitat management services company. Chapman is active in the Society of American Foresters, serves on the board of his local chapter of the National Wild Turkey Federation, was a principal in the development of the first Longleaf Academy, served on the Natural Resources Conservation Service's (NRCS) State Technical Committee and was a member of the Southeastern Forestry and Wildlife Working Group.
"This is an amazing opportunity to be a part of something historic in wildlife conservation in this country and I'm excited to be a part of it," said Chapman.
NBCI Director Don McKenzie said the role of the forestry coordinator is critical because NBCI has identified much of the potential for bobwhite habitat restoration to be on forested lands. "Our efforts in the forestry arena have already resulted in the formalization of the new Shortleaf Initiative as an independent entity, but we still have a lot more work to do to achieve our forest management-related habitat goals.
"For the first time in NBCI's history we are fully staffed, all in positions identified as critical to our mission by the National Bobwhite Technical Committee.  We now have a science coordinator, a communications director, an agriculture liaison in Washington, D.C., a grasslands coordinator, a spatial data analyst and now a new forestry coordinator…and some resources for them to be effective. This will allow us to pursue all of our habitat restoration strategies for wild bobwhites, especially the forest, grazing lands, cropland components, much more aggressively than before and be of greater value to the 25 NBCI member states," McKenzie said.
Chapman, who will work from his office in Milledgeville, GA, can be contacted at schapm16@utk.edu  or 478-451-9114.
About NBCI
Headquartered at the University of Tennessee Institute of Agriculture's Department of Forestry, Wildlife and Fisheries, NBCI is an initiative of the National Bobwhite Technical Committee (NBTC) to elevate bobwhite quail recovery from an individual state-by-state proposition to a coordinated, range-wide leadership endeavor. The committee is comprised of representatives of 25 state wildlife agencies, various academic research institutions and private conservation organizations. Support for NBCI is provided by the Federal Aid in Wildlife Restoration Program, state wildlife agencies, the University of Tennessee and Park Cities Quail. For more information, please visit www.bringbackbobwhites.org and find us on Facebook, YouTube and Slideshare.