The National Bobwhite Conservation Initiative (NBCI) has hired a researcher from Southern Illinois University (SIU) Carbondale, Derek Evans, as the program's new data analyst. Evans will begin work April 16.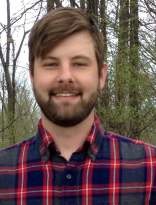 Evans has a B.S. and an M.S. in forestry from SIU, and brings several years of experience in field research and using a range of software programs and programming languages to build, access and automate natural resource databases. Among his responsibilities will be managing the NBCI 2.0 ArcGIS database, assisting states in planning and implementing NBCI focal areas, developing databases, programs and software tools that will aid states with NBCI focal areas and other projects, and working with NBCI Science Coordinator Tom Dailey and the Research Subcommittee of the National Bobwhite Technical Committee on various other needs.
Evans will be headquartered with the Information Technology Services (ITS) unit of the University of Tennessee's Institute of Agriculture in Knoxville. "This is an exciting opportunity for our group" said Chief Information Officer Robert Ridenour.
"ITS has been working in the GIS and spatial data development arenas and having Derek in our group will strengthen this position while providing him access to skills and tools to create groundbreaking data solutions for NBCI programs."
"This fills a critical gap," said NBCI Director Don McKenzie. "Derek will take the lead in creating NBCI's new Bobwhite Information Network, the first database that consolidates data on bobwhites from all 25 states, including bird monitoring and habitat tracking, and manages it for the benefit of all our partners. We will be able to demonstrate and precisely measure grassland bird response to habitat management. And we appreciate the hard work and support of UTIA's ITS personnel in making this work."
To learn more about NBCI focal areas, visit https://nbgi.org/strategy/nbci-2-0 and scroll down to Coordinated Implementation Program.
To learn more about NBCI 2.0 ArcGIS data, visit http://databasin.org/ and search on NBCI.
April 9, 2015