There was a major increase in bobwhite habitat management by the states in 2013 over the previous drought year and the National Bobwhite Conservation Initiative (NBCI) was approved for funding from the Federal Aid in Wildlife Restoration Program. These are but two of the subjects detailed in the newNBCI's Bobwhite Almanac, State of the Bobwhite 2014, the digital version of which is available on NBCI's website at www.bringbackbobwhites.org.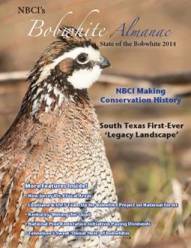 Additional topics include the positive impact on bobwhites of two national pine (longleaf and shortleaf) forest restoration initiatives, the New Jersey Division of Fish & Wildlife's ability to create four bobwhite focal areas in one the nation's smallest, most densely populated states, the U.S. Forest Service's approval of a bobwhite emphasis area in the Kisatchie National Forest in Louisiana and the designation of South Texas as the nation's first "legacy landscape for bobwhite conservation." 
"There are so many things moving in the right direction now," said NBCI Director Don McKenzie. "States have shown their commitment by increasing their habitat management efforts and now by stepping up to actually fully fund NBCI through Pittman-Robertson or other sources. The states' support will allow us to fill some critically-needed positions, including a grasslands coordinator and national bobwhite database manager that we've needed in order to push progress in key ways."
McKenzie says it's important to note that NBCI doesn't duplicate the states' efforts, but works at regional and national levels to identify opportunities and remove obstacles for bobwhite restoration at those levels, something individual states working alone cannot do.
"If fact, I believe we will be able to report success on one of those major 'opportunities' very soon," McKenzie said.
Headquartered at the University of Tennessee's Department of Forestry, Wildlife and Fisheries, NBCI is an initiative of the National Bobwhite Technical Committee (NBTC) to elevate bobwhite quail recovery from an individual state-by-state proposition to a range-wide leadership endeavor. The committee is comprised of representatives of state wildlife agencies, academic research institutions and private conservation organizations. Support for NBCI is provided by the Federal Aid in Wildlife Restoration Program, state wildlife agencies, the University of Tennessee and Park Cities Quail. For more information, please visit www.bringbackbobwhites.org,