Male Bobwhite
A male bobwhite. Photo: Ben Robinson
Female Bobwhite
A female bobwhite. Photo: Ben Robinson.
Farm Setting
Small, un-manicured farms with fencerows, brushy hedgerows, fallow fields and open woodlots once created a patchwork quilt of bobwhite habitat. Photo: Ben Robinson
Nesting Habitat
Nesting and brood-rearing habitat, consisting of native grasses and forbs (i.e., wildflowers & "weeds"), are key components of bobwhite habitat and the most likely to be missing on the landscape.
Loggerhead Shrike
This Loggerhead Shrike is but one of a suite of grasslands songbirds that is in decline because it requires the same habitat as the bobwhite.
South TX Bobwhite Habitat
Prime bobwhite habitat as it looks in South Texas. While the plant species may change, bobwhite habitat retains its structure throughout the range.
Controlled Burn
Since the early 1900s, the bobwhite has been known as the "fire bird" because of its dependence on fire to disturb the landscape and "re-set" the plant succession button. Prescribed fire under very controlled circumstances is an invaluable tool for creating and maintaining the habitat bobwhites require.
Cattle
Returning native grasses to grazing operations to benefit livestock, producers, grassland birds, bobwhites and taxpayers is an essential element of NBCI's efforts to restore wild bobwhites on working lands across the range.
Grassy Woodlands
Active, purposeful management of forests to re-create savannas or "grassy woodlands" is a key NBCI objective in restoring wild bobwhites.
Butterflies
Bobwhite habitat provides excellent habitat for butterflies, such as this Monarch, as well as a wide range of pollinators. Photo: Bruce Schuette
Why should we care about bobwhites? What does bobwhite conservation mean for our efforts to preserve other declining grassland birds species? And what is NBGI, exactly? We've developed a beautiful StoryMap to help our partners and the public makes sense of it all in answering these questions and more. Feel free to scroll through the StoryMap by placing your mouse below, or click here to view its full page. You will begin learning more about this incredible partnership and the tireless efforts underway to help bring back bobwhites!
NBGI mission: A partnership to restore and maintain wild bobwhite quail, associated species, and their native habitats through science-based research and management to support healthy wildlife, soil, air, and water for the benefit of society.
The Northern Bobwhite, Grasslands, and Savannas:
A Framework for Conservation Action

New Plan Guides Conservation Action on America's Central and Eastern Grasslands and Savannas .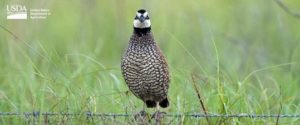 The Northern Bobwhite, Grasslands, and Savannas: A Framework for Conservation Action, outlines how USDA's Natural Resources Conservation Service (NRCS) will work with agricultural producers and partners like Quail Forever to increase adoption of targeted conservation practices that are good for farmers, ranchers, the bobwhite and natural resources.
The framework is a 2022 publication by NRCS capturing a long-term, large landscape conservation plan to recover central and eastern grasslands for northern bobwhite and other wildlife species. To support the win-win approach of WLFW, this framework also includes anticipated outcomes for risk management and revenue enhancements for the agricultural/ forestry operations, as well as measured outcomes for greenhouse gas (GHG) mitigation.
Please head to https://landscapepartnership.org/networks/working-lands-for-wildlife/target-species/quail to download the document and learn more about the Framework.
 
A huge thank-you to those of you that have been involved up to this point.  We welcome even more participation from partners! Please reach out to us if you have any questions bridgett.costanzo@usda.gov or jmcguire@quailforever.org 
NBGI Coordinated Implementation Program
NBGI's bobwhite focal area program—the Coordinated Implementation Program, or CIP—is a science-based initiative designed to demonstrate conclusively that bobwhite populations (as well as populations of other species) can be recovered when the proper amount and arrangement of habitat is provided on a landscape scale. There are currently 26 NBGI focal areas in 20 states, along with a similar-sized and located reference area for each. NBGI's vision is to grow the focal area concept to focal landscapes and then focal regions over time.
NBGI's unique approach has attracted widespread attention because of its standardization of protocols across the bobwhite range and NBGI's maintenance of the database at Clemson University, which provides easy access for partners. To learn more about the program, including participation requirements and opportunities, visit the NBGI Focal Areas page.
CIP Enrollment
Click on a state to display the focal area details. For resources available to state quail coordinators, visit
QuailCount.org.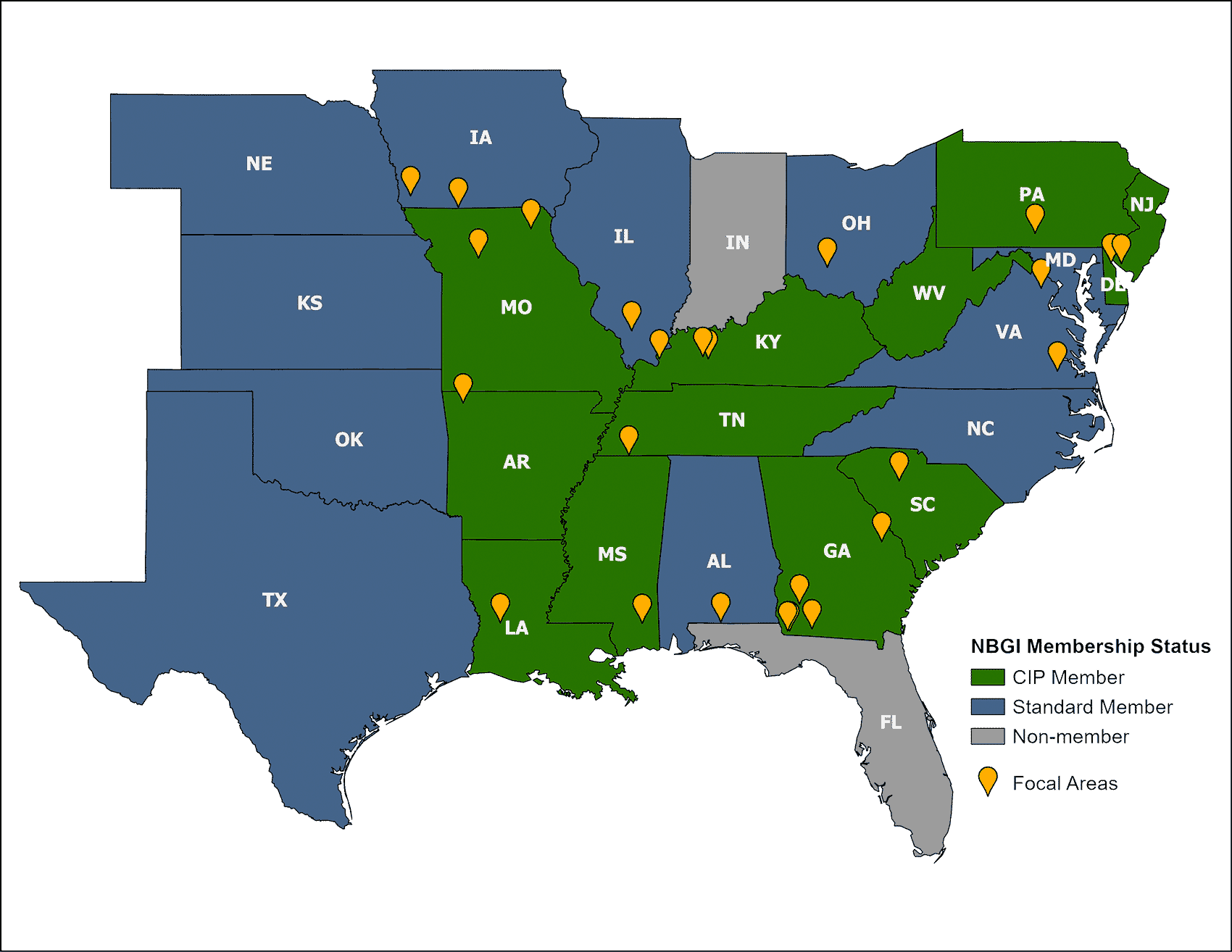 Iowa
Ringgold Focal Area
Acreage: 6,475 acres
Monitoring Points: 32 points
Collecting Data Since: 2013
Shawtee Focal Area
Acreage: 5,812 acres
Monitoring Points: 30 points
Collecting Data Since: 2014
Missouri
2C Focal Area
Acreage: 5,242 acres
Monitoring Points: 24 points
Collecting Data Since: 2013
Bee Ridge Focal Area
Acreage: 5,574 acres
Monitoring Points: 23 points
Collecting Data Since: 2018
Arkansas
Pea Ridge Focal Area
Acreage: 4,250 acres
Monitoring Points: 12 points
Collecting Data Since: 2017
Louisiana
Kisatchie National Forest – Vernon Focal Area
Acreage: 5,991 acres
Monitoring Points: 25 points
Collecting Data Since: 2017
Illinois
Burning Star Focal Area
Acreage: 4,451 acres
Monitoring Points: 24 points
Collecting Data Since: 2018
Kentucky
Livingston Focal Area
Acreage: 5,838 acres
Monitoring Points: 48 points
Collecting Data Since: 2013
Peabody Focal Area
Acreage: 3,074 acres
Monitoring Points: 14 points
Collecting Data Since: 2018
Wendell Ford Training Center Focal Area
Acreage: 3,088 acres
Monitoring Points: 13 points
Collecting Data Since: 2018
Tennessee
Wolf River Focal Area
Acreage: 3,119 acres
Monitoring Points: 13 points
Collecting Data Since: 2018
Mississippi
Leaf River Focal Area
Acreage: 3,549 acres
Monitoring Points: 15 points
Collecting Data Since: 2020
Alabama
Boggy Hollow Focal Area
Acreage: 6,878 acres
Monitoring Points: 24 points
Collecting Data Since: 2018
Ohio
Fallsville Focal Area
Acreage: 11,058 acres
Monitoring Points: 42 points
Collecting Data Since: 2015
Georgia
Silver Lake Focal Area
Acreage: 4,664 acres
Monitoring Points: 22 points
Collecting Data Since: 2018
Chickasawhatchee WMA Focal Area
Acreage: 7,000 acres
Monitoring Points: 48 points
Collecting Data Since: 2020
South Carolina
Indian Creek Focal Area
Acreage: 2,685 acres
Monitoring Points: 12 points
Collecting Data Since: 2016
Focal Area #2
In Development
Virginia
Big Woods/Piney Grove Focal Area
Acreage: 7,574 acres
Monitoring Points: 31 points
Collecting Data Since: 2013
Manassas National Battlefield Park Focal Area
Acreage: 4,424 acres
Monitoring Points: 19 points
Collecting Data Since: 2018
Pennsylvania
Letterkenny Focal Area
Acreage: 3,756 acres
Monitoring Points: 15 points
Collecting Data Since: 2017
New Jersey
Dix WMA Focal Area
Acreage: 6,146 acres
Monitoring Points: 15 points
Collecting Data Since: 2019
Delaware
Cedar Swamp Focal Area
Acreage: 1,694 acres
Monitoring Points: 14 points
Collecting Data Since: 2016