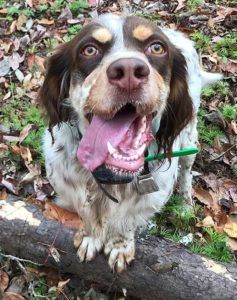 Life is a risk, and to love anything alive is to chance heartbreak. But it wouldn't be much of a life without love. Most risks are well worth taking, the key is to know the difference between risk and wreck less ness.
                Bird hunters don't like to talk about the loss of a dog, but we all have so many memories of those we have laid to rest. This BLOG is named after my seventeen year old setter Shell, gone now for eleven years. And I just recently lost my bird dog Tilley to an unexpected and unusual infection detected too late to overcome. She was only five. But she knew what I wish more of us knew…you can be happy and not worried or stressed and worried and when you die you'll be just as dead either way. She was happy every day of her life but the last few. A short life well lived is to be celebrated. But it doesn't stop me from missing her terribly.
                So, one day at a time and step by step, one foot in front of the other and then the next. The roller coaster of memories, forgetting for a while when working diligently, then remembering again, then disbelief, then back to reality, and over and over again until time begins to slowly bring acceptance and healing but never forgetting. And for any who think she was just an animal…may the fleas of a thousand dogs infest your home.
                Raising and training a bird dog is not easy. At my age, fifty nine, I have fleeting thoughts about whether I am up to it again. I start to wonder if they'll outlive me, and what would become of them if they did. But then I find the puppy pictures in my old files. I recall how for every trying day, and sleepless night, there were ten-fold good times. And I know what a good life I can give them. Room to roam, time spent with them nearly every day. Trips to new grounds to hunt new birds. And that tiredness after a long day that brings the most peaceful rest on the seat next to me on the long ride home. I am willing to take the risk and start the process all over. Like places I have hunted that I'll never see again because they are too steep, or too far into the mountains, the day will come when I know it is time to stop raising bird dogs.
                Starting over begins by thinking of when to look for a new bird dog. It will take a few months for me to reach that point. If you try to erase grief by starting too soon, something is lost. That said, it is easier if you bring a puppy home while the weather will still be warm for several months. Most of us know the breed we favor. And since we've been at it a while, we have the gear needed, a crate, an indoor fence so pup won't roam the house at night leaving presents. Lots of old newspaper for lining the crate and kennel floor along with a few puppy pads. Small stainless steel bowls and formula in some cases. A small collar, a lead and at some point a check cord.
                But more than anything we need the willingness and desire to spend time with them every day, multiple times. More than all else, they sense our feelings toward them. You are a God to them. A giant that brings joy, and lets them do fun things and in the early months this is all that matters. When you show up, good things happen.
                And for a while, several months maybe, you walk them outside only on a lead for fear they'll run off after something unseen. And slowly you begin to interject some basic training in their daily routine. Always careful not to push too hard and end on a good note. Puppy steps. Trust is built. And they grow and become stronger in body and mind. They will test you. You will test them. A bond is formed. The relationship grows and one day you let them run free and they respond to your whistle or to your voice or even to hand gestures. Each learning the other until a certain comfort is achieved. Blank guns are fired while good things happen like feeding or treat time. This helps to avoid gun shyness. They are introduced to other dogs and people – and taken to new places with different habitats.
And when it gets cool enough in the mornings of fall…we introduce them to wild birds. They'll make mistakes. So will you. But yelling is not the answer. And the story goes on. The tradition of upland bird hunting persists. I am an upland bird hunter and I am proud of that. It is not an easy form of outdoor recreation. It is active, challenging and praise worthy. For those who see bird hunters only as pictures of dead game on a tailgate, and dogs posed for snap shots…maybe this story illuminates the hard work and love that went into being able to actively participate in an ageless saga between predator and prey. We are no less worthy of admiration than the falconer.
Dedicated to my recently lost bird dog Tilley Bell (my Mom's childhood nickname)– who with my good friend as a witness on two occasions, was called off a point because we could not find her in the thick brush, until she came back and led us back to the bird. A sweeter, smarter or happier dog I never owned. Her short life was very well lived.