Sitting on my front porch yesterday watching that heavy, wet snow pile up and watching the squirrels try to figure out my new squirrel-proof bird feeder (they eventually did figure it out), I realized it was my 25th anniversary with the Virginia Game Department (now Department of Wildlife Resources). It was striking because the day I first drove to Amelia Wildlife Management Area 25 years ago was a weather replicate of yesterday. I was coming up from Wendell, North Carolina having worked for a landscaping company for several months after finishing graduate school at NCSU. Yes—surprise, surprise shiny new college graduate—all those years of hard work did not guarantee a wildlife job upon completion. But I had finally been hired as a field research technician by the Department as part of a new quail program they had developed (Quail Plan 1 as we refer to it). And I was glad to be getting back to my native state. I remember that 25-year-ago drive up here like it was this morning's coffee—my little red Nissan two-wheel drive pickup had a short wheelbase and a low center of gravity and would float along in the snow with ease. Everything I owned back then would fit in two or three pickup loads. And I had the nerves to drive hundreds of miles in a snowstorm without a second thought. These days, I like to be safe at home with my family before the snow starts flying.
Well, we caught a lot of quail that spring and summer, and one thing led to another. Twenty-five years down river (or maybe "upriver" would be better stated, which is how the paddling has sometimes been), I'm still putting a great deal of my heart into quail recovery. They say passion wanes with time, and it does. But depending on what replaces it, that's not all bad. Sometimes it's replaced by deep down commitment and determination not to give up. I have said it many times over the years, recovering a wildlife species (or in this case, an entire guild of them) is a life-long, multiple-generation gut check. I look at the folks who have diligently worked to recover the Chesapeake Bay or red-cockaded woodpeckers, or conserve our soil and crop lands, or provide sustainable forests for decades as being no different than those of us who work on behalf of bobwhites. There is always so much more to what we do than the particular species or resource adorning our outreach posters.
I do worry about burnout though. And not just my own, but that of our many partners. There is a fine line between being passionate and being pushy, and I have sometimes crossed that line, and I think sometimes the "quail community" might have, as well, though not wittingly. You see. passion, determination, and commitment can also lead to being so single-minded that we miss seeing that burnout in others. And this post is me reaching out to say, "I get it." I know some of you might see me coming and say "Oh Lord, not the quail man again." And some of you might see the latest quail initiatives and mumble under your breath "Don't those folks know when to give it a rest?" I also know that it might seem like all the work we have done is not having a big impact. But it is working in places, even in Virginia. Our quail community, like much of the wildlife community, has not yet figured out how to promote success effectively. It always seems there are so few of us there's hardly time to get the field work done, much less write articles, learn new outreach methods, and become publicity gurus.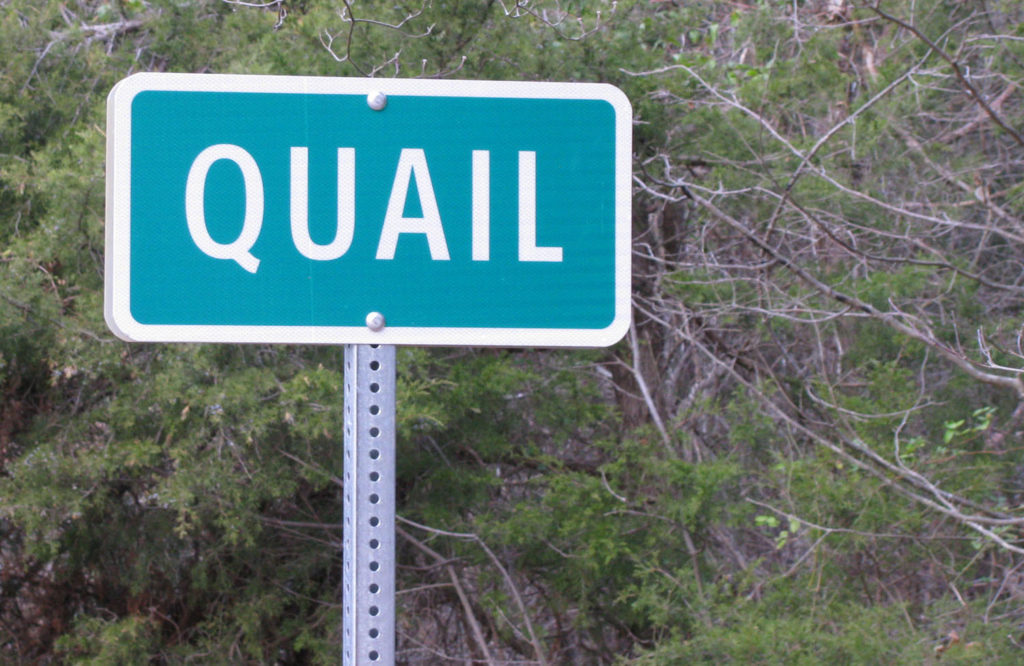 I respect and admire all our many partner agencies and entities and their staff and the work they do. We have tried hard to recognize our partners at every opportunity. I respect and admire the thousands of landowners we have encouraged and helped with their habitat work who have gone on to actually do things out there. Likewise, we do our best to recognize them when we can. And I respect and admire the staff of our own agency, many of whom have worked with little fanfare for decades, doing the things that keep us glued together. I haven't said thanks often enough. And I hope all of you can understand this "quail community" and our dedication to what we are trying to do, which goes so far beyond quail. Momentum is much easier to attain than to maintain. And COVID has not helped. On an individual level, we all have to take a breather now and then. But we're not going away. "Good Lord willing and the creek don't rise," we'll be right back at it with renewed energy before long.
And for those of you who, like me, have been privileged to have spent most of your adult life in this profession, I'll share with you a line from Alfred Lord Tennyson's poem "Ulysses," one my favorites:
"We are not now that strength which in old days
Moved earth and heaven; that which we are, we are;
One equal temper of heroic hearts,
Made weak by time and fate, but strong in will
To strive, to seek, to find, and not to yield."
And if poetry's too stuffy for you, here's one of Frank Zappa's best one-liners: "There are only two things to remember. Number one, "don't stop," and number two, "keep going!"