There's been a lot of talk during this COVID pandemic about who and what is essential. If you are amidst a heart attack, the people who come to your aid are essential. If your house is on fire, those brave souls who come to fight it are essential. If someone is breaking into your house, the deputy who responds to your 911 call is essential. So some essential occupations are obvious, but before this pandemic, I'm not sure we'd have viewed grocery store clerks, UPS drivers, gas station operators, and many others as such. It has become starkly apparent that it takes a lot of people in diverse roles to keep this world turning as we know it. Some occupations require a certain amount of bravery, or at the very least, dogged determination, to continue to operate in these times. And some occupations require bravery every day. But bravery does not determine whether something or someone is essential or not.
I've been struck by how essential the outdoors has become for so many during these last six weeks. I consider myself extremely blessed for many reasons, not the least of which is that I live in the country and have room to roam. I have space. I have a place to walk, to run, to work, and to breathe clean air. There are many who are not so lucky. And like many of my coworkers, I've spent the better part of my adult life working to preserve or improve these open spaces. I, along with so many have given more presentations than can be counted to groups of young people in an effort to increase their appreciation and understanding of the natural world. And our profession has worked on millions of acres of land to either improve it for wildlife or keep it in a state that others can enjoy. Each of us plays a small role, we monitor populations, study species, help landowners improve or establish habitats, investigate wildlife diseases, keep trails mowed, plant pollinator plots, improve streambanks, conserve soil, respond to wildlife conflicts, manage forests, replenish fish populations, and enforce wildlife conservation laws. Nothing we do ever makes the front page of the newspaper, or ends up on the national news. With the exception of Earth Day, there is no celebration of what we do. And sometimes we are even criticized for being conservationists. And while there may be nothing heroic about what we do day-to-day, many heroes rely on the places and the wildlife we manage to find their solace.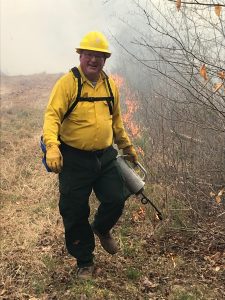 Individually, very few of us have a major impact, but collectively, we provide America the lifeblood of her natural self. At the core of every human are roots that go back to when we all depended directly on the land. But what many have forgotten is that we all still do.
Next month, I promise to get back to wildlife management in a practical sense.