When I graduated high school, my dad offered me some choices of graduation presents. We were not wealthy by any monetary measure, not by a long shot. So his offer to take me to Canada on a fishing trip meant expenses our family would feel. But off we set on a 26-hour road trip one way, four of us in an International Scout packed to near bursting like a tick on a hound dog in summer.
Our expectations were high after years of seeing the pictures in all the popular outdoor magazines, all of which we subscribed to. The brochure of our camp of choice had shown freshly painted, immaculate cabins, shiny new boats, guides and stringers full of fish. But upon arrival we found dilapidated, mouse-infested, leaking cabins, a run-down camp store, beat up boats … and no guides. We also caught very few fish. It was still a fun adventure, but our expectations had not been met. Maybe they had been unrealistic?
Lately, I have found myself talking more and more to landowners who have been disappointed in their wildlife plantings. Many times these plantings have been "pollinator projects." It has reached a point where some conservation professionals have become hesitant to promote pollinator plantings. I have planted quite a few myself – meaning me with partners out in the field preparing seed beds, mixing seed, and conducting multiple site visits for follow-up on multiple projects. I have enjoyed varying degrees of success, but would generally rate 90% or better as projects with good results. And in most cases, where results were not good, we had cut corners on proper establishment techniques. There are some keys to getting good results that I will mention later, but right now I want to address managing expectations.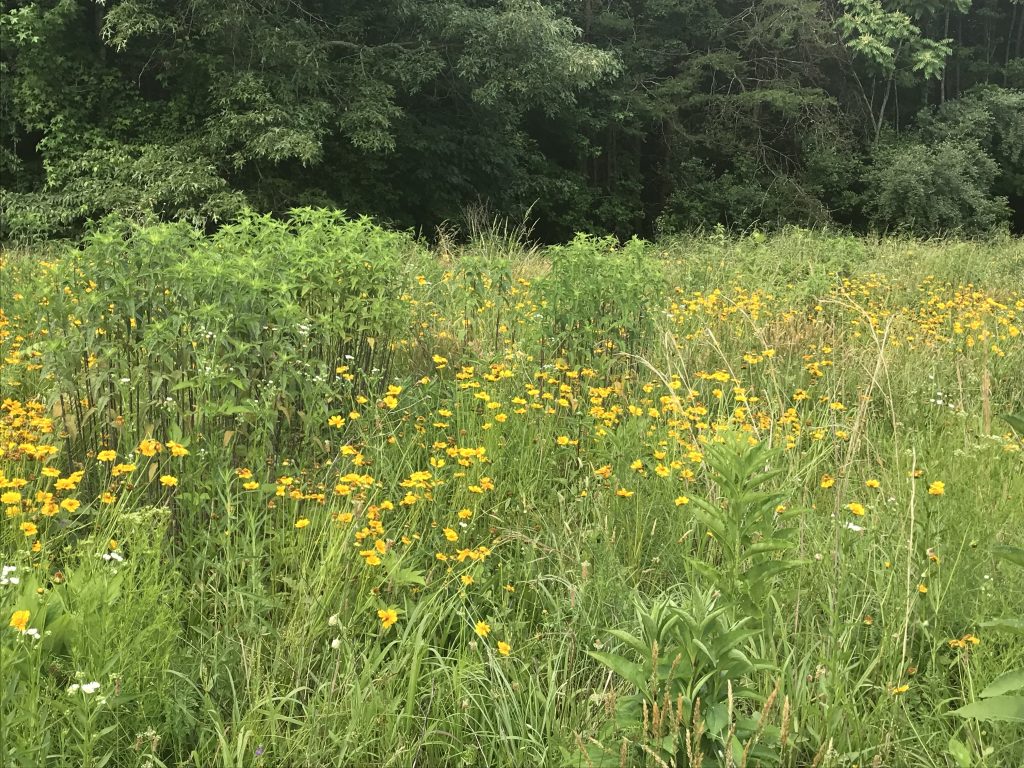 I fear some wildlife professionals might be guilty of over-selling, or improperly selling, pollinator planting projects. First off, just about every picture a landowner sees of pollinator plantings is one showing a beautiful field of wildflowers in perfect bloom, many times with bumblebees or butterflies on some of the spectacular flowers. This is not helped by magazines that foster the utopian view of such plantings. This sometimes does happen, but guess what – in most cases when you plant wildflowers, the native seedbank – meaning those seeds naturally in that soil for perhaps decades, will also join the party. Believe it or not – not all of them have beautiful flowers. Ragweed, for example, often shows up. There is not a better plant in the world for quail, but it ain't pretty and does nothing for pollinators. Horseweed is another common culprit of "plainness." A few landowners go aghast that flowers other than yellow, red and blue somehow show up in the plantings. This year, common fleabane with tiny white flowers was ubiquitous in many pollinator plantings I saw. While it is not real showy, it is used heavily by a lot of small native bees.
I think one thing that can be done to manage expectations is to use a variety of photos to promote these plantings, not just the perfect ones. Landowners need to know that pollinator plantings are not "pollinator gardens." Professionals also need to highlight the value of some of the non-planted "weeds" that show up for free. Basically, we just need to be honest about expected results, possible issues, and the need for long-term management, which may include addressing non-native invasive plants, too.
So here are a few of my suggestions for those interested in developing successful pollinator plantings (or other wildlife plantings in many cases).
As the landowner – avoid the utopian vision of how the project will turn out. Pollinator plantings require a lot more than "just adding water."
Scout the site properly and look for potential invasive species that could derail a project. If the proposed site is infested with Johnson grass, sericea lespedeza, Bermuda grass, or other such hard-to-manage invasives, consider another site if available. If not, be realistic. Will the expense and time required to address such sites "pay off" in the end? One way to deal with the invasives would be to plant the area to an herbicide compatible crop for several years to gain control over the invasives well before starting the pollinator planting.
Have patience. Properly preparing for and implementing a pollinator planting can take a couple years if it is done correctly. The project may require several herbicide treatments, and/or cover crop plantings to get the area "right" for pollinator mixture seeding.
Prepare a very good, firm seedbed. This usually requires culti-packing before and after seeding if planting on disked ground.
Make sure you have the time and equipment to properly implement the planting, or have the means to hire a wildlife planting contractor that is knowledgeable and capable of seeing the project through.
Learn to identify "good" weeds and wildflowers that you do not plant, and accept them as welcome and free additions to your plantings.
If a pollinator garden is truly what you want, pick a small site that can be weeded by hand, because over time that will be required. Most pollinator gardens are also implemented using potted plants, not seeds. Work with a good biologist to develop a list of plants you'd like to have and develop a plan for how they should be arranged. The plan should include sources and best planting times.
My last piece of advice involves being honest with yourself. If you want to be in the quail business, or even in the pollinator business, and you cannot tolerate a few native weeds and some unkemptness to your property, you may want to reconsider and spend your time and money elsewhere.