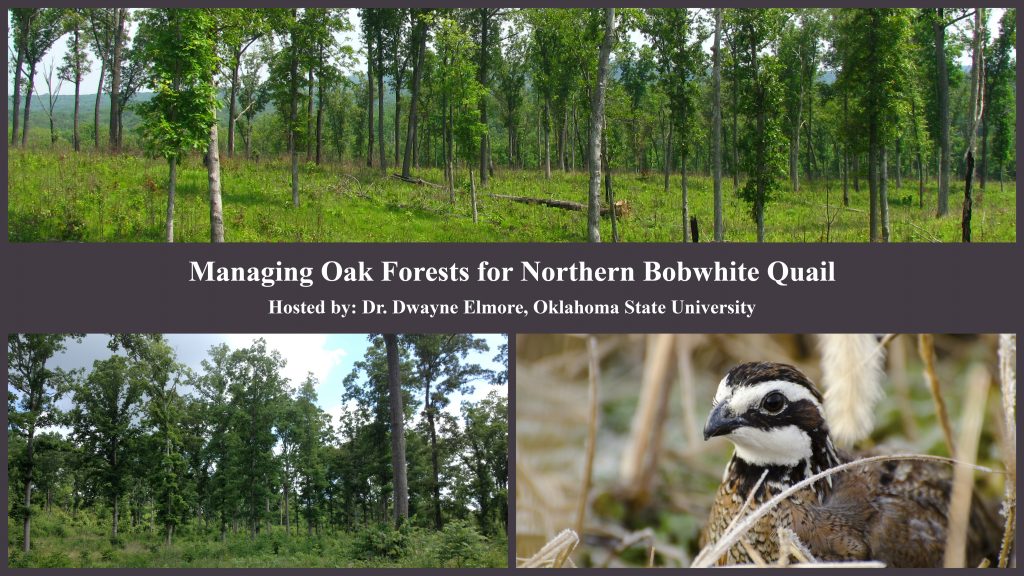 Webinar Description:
The southeastern United States has millions of acres of oak dominated forests that have a closed canopy with limited herbaceous and shrub understory that northern bobwhite require. However, research has demonstrated that with adequate overstory thinning, and the use of frequent prescribed fire, these forests can support populations of Northern Bobwhite Quail, presenting perhaps the best opportunity for large-scale quail restoration in the region. Participants in the webinar will learn about managing oak forests and restoration efforts related to northern bobwhite quail.
Hosted by:
Dr. Dwayne Elmore currently serves as a natural resource ecology and management professor and Extension wildlife specialist at Oklahoma State University. He is holder of the Oklahoma State University Irvin Bollenbach Endowed Chair in Wildlife Management. An Oklahoma State University faculty member since June of 2006, Elmore has earned renown in scientific circles and amongst Oklahoma landowners and policy makers as an Oklahoma State University Cooperative Extension wildlife specialist and a researcher focused on upland gamebird management and fire ecology.
View this webinar through the Forestry Webinar Portal at http://www.forestrywebinars.net/webinars/managing-oak-forests-for-northern-bobwhite-quail.