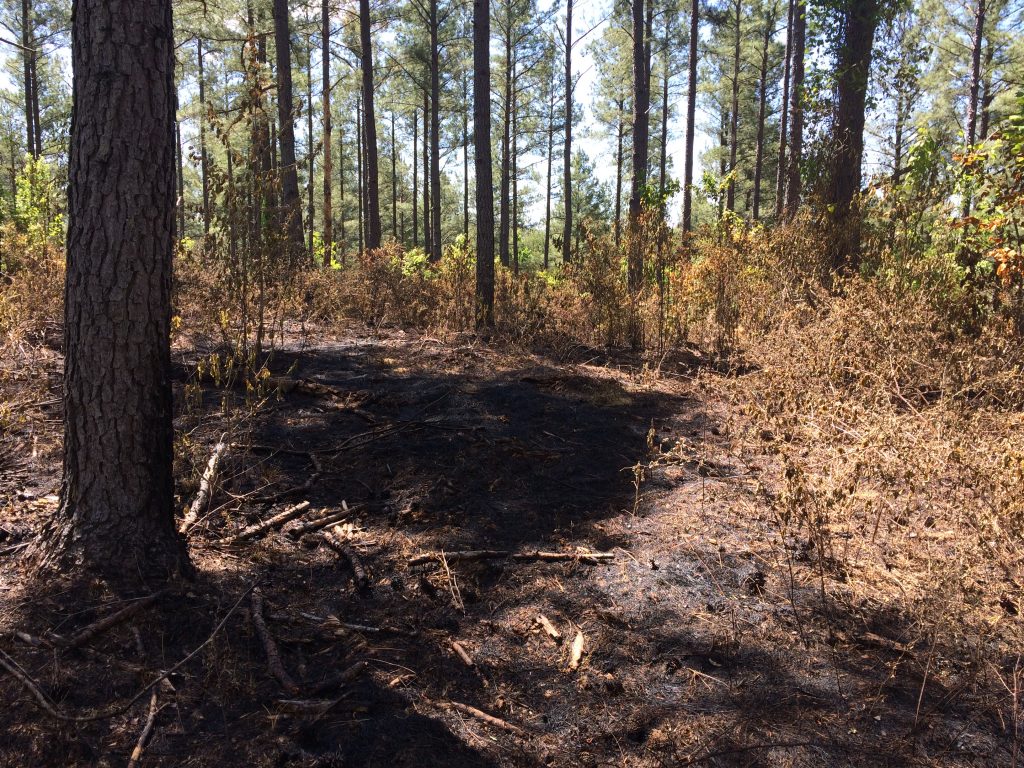 "I understand the need for fire, but when you are burning in May, you are burning up quail, turkey and grouse nests and that can't be good. Why don't you burn in winter, or early spring before nesting begins in earnest?"
I am sure many of us who practice prescribed fire have started to hear this more often. And it is partially our fault…as we have not done enough outreach and education about why we sometimes burn in late spring. I have also had it expressed to me that some believe this "growing season" burning occurs primarily due to fear of lost money. Meaning that if an agency has set a budget for burning, and winter weather delays it, if they don't burn in late spring, they'll lose the funds.
I'd like to first say that I have seen prescribed fire professionalism increase year-after-year-after-year for over two decades. With increasing public scrutiny, and more and more human encroachment surrounding public lands, the need to be completely professional in the use of prescribed fire has increased. Everyone I know in the profession of wildlife management and forestry use prescribed fire for all the right reasons. With regards to the funds…it is true that in many cases they can't be carried over from one fiscal year to another, but, in most cases they can be redirected to other appropriate uses during that same fiscal year. The money does not evaporate if not used.
From an economic standpoint, nothing in our wildlife management tool box can treat more acres faster and at a lower cost than prescribed fire. I once helped bush-hog some heavily overgrown fields on one of our Wildlife Management Areas. It took two of us working all day for three days running two 75 horsepower tractors to complete 40 acres of mowing. That same acreage could have been safely burned in 3 to 4 hours. But we had fallen behind on burning…and the vegetation had reached a stage where fire would no longer set it back to the desired condition. And this is one key reason growing season fire is sometimes applied. It can be the only time during which fire will have enough impact to set back plant succession to the desired condition to favor, quail, grouse, woodcock, turkey and many songbirds and pollinating insects.
Let me explain a couple things. First – it is good to mix up the timing of burning. A good practitioner would never want to burn a particular tract only in the winter, or only in the late spring, etc. Fire practitioners often use winter fire to reduce heavy fuel loads after a thinning operation. Winter fire can also top kill some young pine and hard wood competition, help scarify native plant seeds to increase germination rates, and remove duff making foraging easier for some wildlife species. But if managing for quail, grouse or turkey is your goal, some growing season fire is going to have to be applied. And sometimes that may be later in the season…into May. This may seem counterintuitive, but let's stop and think a minute.
Suppose we can't burn a timbered tract (either thinned pines or hardwoods) in late winter because it stays wet and cold. It stays wet into spring, and then we finally get some good burning weather in May. We have choices. We can delay and perhaps try again in fall. Or we can delay a full year, hoping for good conditions in early spring, or we can burn it now…in May and risk losing a few nests – though studies show percentages of lost nests are low (Kilburg et al. 2104). Given that most entities using fire have limited budgets, staffs and time, and given that we cannot predict the weather in two weeks, much less months…many good managers would choose to burn in May. If we don't burn in May, and then we can't burn the following year…for all practical purposes that block of habitat is going to be "lost." Meaning we have no real way of managing it now until it is clear-cut, replanted and reaches thinning age again in 20 to 25 years. What we have done is traded a few nests this year for potentially far more nests in subsequent years if we had been able to stay ahead on the management of the unit.
It is also funny as humans we tend to use rationalization when it benefits us. How often do we make decisions based on short-term gain that could lead to long-term loss…debt comes to mind…go ahead and buy that boat and worry about paying for it later. Right? You only live once. But rarely do we use the counter-equation – "Short-term loss for a long-term gain." Such as "I don't really need a 64" flat screen TV to watch the Superbowl…let's save that money for a trip this summer." In the case of growing season fire, we make a very well thought out decision based on short-term loss traded for long-term gain. I think if you asked most of the tax-paying public…they'd appreciate our use of that view. I am not sure why when it comes to prescribed fire they don't seem to.
I stated all the above as a seasoned professional, and I know these things to be true after 26 years in this profession reading about fire, practicing fire and observing the results of fires on a variety of landscapes. My colleagues and I will continue to make decisions about the use of fire based on science, knowledge and practical experience with wildlife's and the public's best long-term interests at heart.
Citations and further reading:
Lightning Season Burning: Friend or Foe of Breeding Birds? Cox, J. and B. Widner. Tall Timbers Research Station and Land Conservancy, Miscellaneous Publication 17/ http://www.talltimbers.org/images/pubs/FireBreedingBirdsBooklet-small.pdf
Kilburg, E., C. Moorman, C. Deperno, D. Cobb and C. Harper. 2014. Wild turkey nest site survival and nest site selection in the presence of growing season prescribed fire. Journal of Wildlife Management 78(6): 1033 – 1039.
Restoration in the Southern Appalachians: A Dialogue Among Scientists, Planners and Land Managers. Eds. W.T. Rankin and Nancy Herbert. U.S. Forest Service: Research and Development Southern Research Station. General Technical Report SRS-189.