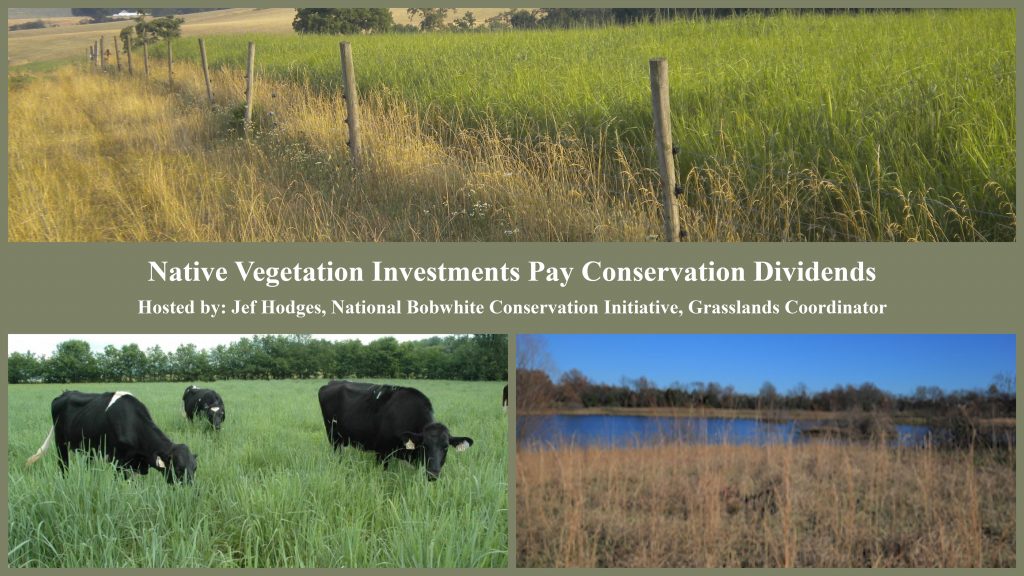 Webinar Description:
Viewers will learn about native vegetation's applicability to a myriad of conservation practices beyond wildlife uses through an exploration of the supporting scientific research applied throughout the tall grass prairie and southeastern grasslands regions. Topics covered will include soil conservation, water quality, air quality, soil health, forage, biomass and wildlife.
Native vegetation has been questioned for its perceived high cost of establishment, however when considering its multiple ecosystem services and improved efficiencies over many non-native introduced species, native vegetation is a desirable alternative.
Hosted by:
Jef grew up in the Osage Plains of west central Missouri where a majority of his formative outdoor experiences occurred. It is through this association his passion for grasslands and associated wildlife was nurtured. Jef lives on a farm his family has owned since the early '70s. A certified wildlife biologist, Hodges has a B.S. in Fisheries and Wildlife from the University of Missouri. Jef has worked with the Missouri Department of Conservation in native grass restoration, as a plant manager and marketer with a native seed company in Missouri, as a regional director and biologist covering six states with the now-defunct Quail Unlimited, and is owner/manager of his own company, Total Resource Management, LLC. He is a certified technical service provider by the Natural Resources Conservation Service (NRCS), serves on the NRCS State Technical Committee in Missouri, the Missouri Prescribed Fire Council and is a member of the Quail and Upland Wildlife Federation, Quail Forever, the Conservation Federation of Missouri and the Quality Deer Management Association.
View this webinar through the Forestry Webinar Portal at http://www.forestrywebinars.net/webinars/native-vegetation-investments-pay-conservation-dividends/.