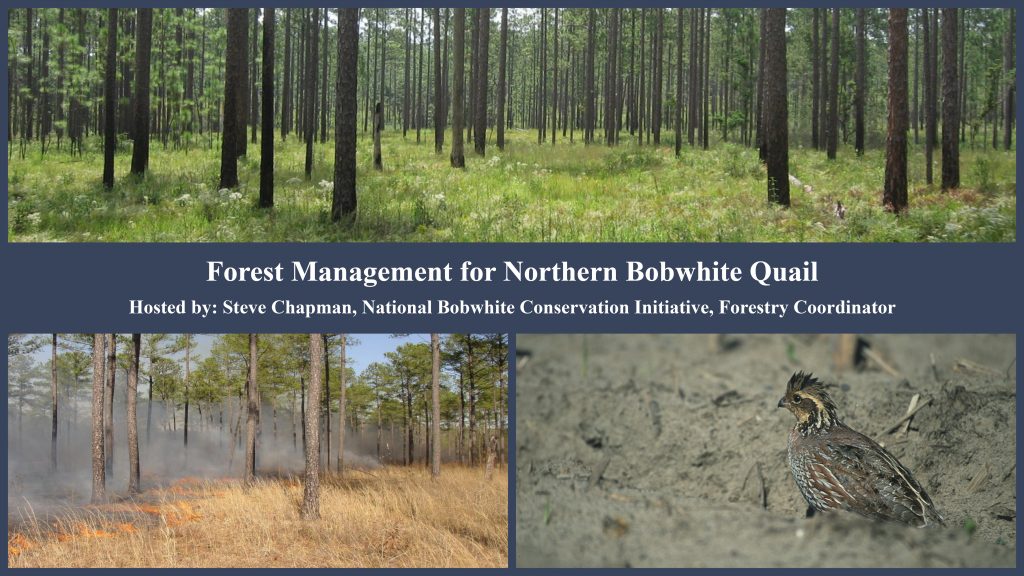 Webinar Description:
The loss of suitable habitat from changing land use practices — most notably more intensive agriculture, urbanization, and a dramatic decline in active, purposeful forest management with the use of fire—has had a crushing impact on a once iconic species, as well as numerous songbirds, pollinators and other wildlife. Our most effective habitat work on behalf of bobwhites could actually occur in the forested landscape from New Jersey to Texas and Oklahoma to Florida. Bobwhites thrive in forested stands that have been thinned to allow sunlight to reach the forest floor and where these same stands have received a frequent application of prescribed fire.
In this webinar, Steve Chapman, NBCI Forestry Coordinator, will discuss pine forest management opportunities and practices that can not only help to bring back the bobwhite but also can have an impact on slowing the decline of those numerous songbird, pollinator and other wildlife species.
View this webinar through the Forestry Webinar Portal at http://www.forestrywebinars.net/webinars/management-for-northern-bobwhite/.