TALLAHASSEE, Florida (April 17, 2014) — The Florida Fish and Wildlife Conservation Commission (FWC) at its meeting today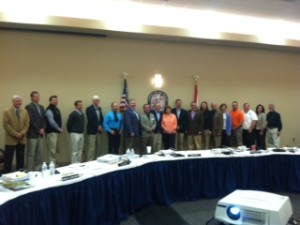 near Tallahassee announced a partnership with three other conservation organizations to help the northern bobwhite (quail) and youth shooting programs in Florida and Georgia.
The four partners are the FWC, the Georgia Department of Natural Resources – Wildlife Resources Division (GADNR), Quail Forever and Tall Timbers Research Station & Land Conservancy.
All four organizations have signed a memorandum of agreement pledging that they will each provide mutually beneficial support to a project called the Florida/Georgia Quail Coalition, whose goal is to enhance, promote and conserve quality habitat for northern bobwhite and to promote and support youth shooting sports programs and education.
The term of the agreement is for three years, and the four organizations each will appoint one authorized representative to serve on the Coalition's steering committee.
Quail Forever will provide one shared full-time position employee and one part-time position staff member. The organization also is charged with providing funding to establish, manage and monitor quail populations and habitat on public and private lands in Florida and Georgia, and to work with the Coalition to increase youth hunting opportunities on some of these lands once adequate bird populations and habitat have been restored. Also, Quail Forever is to provide funding from its local chapters to help pay the cost of youth shooting sports programs and scholastic shooting teams.
"Being a Georgia native and having been raised in a family which respects our upland hunting tradition, I am eager to see the positive effects which will be generated by this landmark partnership," said Talbott Parten, Quail Forever's regional representative for Georgia and Florida. "Knowing the commitment of the partners involved, it is my, and Quail Forever's, firm belief that in the years to come, future generations of Georgia and Florida outdoorspeople will be able to look back at this partnership as a pivotal moment for the conservation of the bobwhite quail in the Southeast."
The responsibility of Tall Timbers Research Station & Land Conservancy is to serve as the fiscal agent to receive and disburse money provided by local Quail Forever chapters to pay for approved Coalition quail habitat projects. The Coalition enhances efforts of the Upland Ecosystem Restoration Project (UERP), which is housed at Tall Timbers. For more information on UERP, visit http://TallTimbers.org/gb-UERP.html. Tall Timbers also agrees to house both Coalition employees by providing them office space and administrative support at its facility north of Tallahassee.
"Coalition activities will energize restoration efforts by our agency partners in Florida and Georgia, and hold great promise to recover quail populations and other grassland birds on public lands," Tall Timbers President/CEO Bill Palmer said.
Both states' wildlife and conservation agencies have similar duties and responsibilities as outlined in the agreement. The FWC and GADNR are charged with providing leadership for youth shooting sports and quail habitat projects, and for the planning, implementation, monitoring and auditing of such projects and events.
"Only through collaborative efforts like the Florida/Georgia Quail Coalition will we be able to reach our conservation goals of more substantial habitat restoration for bobwhite quail and all species that depend on early successional habitat," said GADNR's Wildlife Resources Division Director Dan Forster. "Conservation and hunting go hand in hand so through supporting youth shooting sports programs and education we will complete the cycle that leads to success."
"I feel really good about the partnership we have created here and the level of leadership," said FWC Executive Director Nick Wiley. "I am confident that we have the ability and commitment to make some positive changes to help quail restoration in both our states."
To increase and enhance quality quail habitat, money for projects will be spent on frequent small-scale prescribed burning, removing oak trees, roller-chopping dense palmettos and hardwood thickets and thinning rows of planted pine trees. The result of such management practices will create a forest and canopy that is more open, allowing sunlight to reach the forest floor, so that native grasses and weeds can grow, which provide quail food and cover from predators.
For more information, contact Talbott Parten with Quail Forever at tparten@quailforever.org.
<
p align="center"> 
###