I'm not a very supernaturally inclined person.
Why sure, I recognize that Murphy's Law is an inviolable law of nature; I've got enough scars to prove it. And of course I've learned many times over not to utter a peep on those infrequent days afield when I happen to have a string of good shooting; that lesson was reaffirmed just this past holiday season while hunting Mearn's quail with my family in Arizona. I was silently nurturing a 2-day perfect shooting streak until my son, Patrick, made a big deal about my shooting … out loud … to the rest of the family. I missed the very next shot. Beyond such examples, I dismiss the supernatural.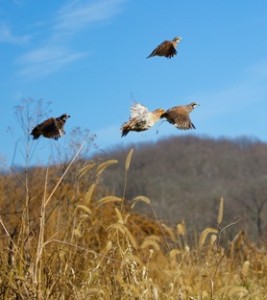 There comes a time, though, to believe in omens; or at least to want to believe. Two situations close and very important to me converged last weekend.
First, 2014 was a challenging year for the NBCI – a "rebuilding" year in college football parlance. The sudden and unexpected termination early in the year of the NBCI's primary funding source spiked urgency into an ongoing – previously methodical – process of establishing a better and stronger primary funding source from the states. By the end of 2014, the new and much-improved NBCI business model was established and operational, with the leadership and investment of the states, but not without many sleepless
nights.
Second, my family's rural property and the surrounding neighborhood in central Arkansas once supported a few persisting coveys of bobwhites. I say "persisting" because our property has only about 20 acres of upland; I manage those acres intensively for
native habitats for bobwhites and grass/shrub birds. To my knowledge, none of my neighboring landowners have any decent quail habitat. There's only so much an island of 20 acres can do to support a quail population long term. I often wondered how those
coveys persisted as long as they did. The party ended a few years ago during a harsh winter with extended ice and snow. The bobwhites disappeared, and we hadn't seen any since then. Given the presumably long distance to the next wild quail population,
I concluded grimly that we may not again have quail on our property for the foreseeable future.
Fast forward to last weekend, Sunday morning, January 4, 2015: my wife, kids and I were sitting around the breakfast table, eating and enjoying the warmth of the wood stove. She had a view through the picture window out to the back yard. With unnerving speed, pitch and volume, my wife jumped up shrieking "Oh, my gosh! Nobody move! Oh, my gosh! Don't scare them! Oh, my gosh! Quail in the back yard!"
Of course, we all jumped up instantly and ran to the window, scaring an entire covey of bobwhites, which ran across to the edge of the yard and flushed into our meadow. It was a celebratory occasion for the McKenzie family, and cause for elation. That is the power of the bobwhite.
Yes, this time I want to believe in the supernatural. That covey simply has to be an omen: 2015 is destined to be a good year for the NBCI and for bobwhite conservation!