We Need More Grimsteads and Farinholts
To Help Us Redefine Bobwhite Success
By David Bryan
Private Lands Wildlife Biologist,
USDA NRCS/VA DGIF/VT CMI
In the field of wildlife biology, conservation success is often measured quantitatively. As quail biologists, we may be interested in the amount of acres that have been successfully converted to native meadows or perhaps how many acres of contiguous longleaf pine forest have been burned by prescription. More importantly, we survey to see how these newly created or managed habitats lead to responses in the populations of Northern Bobwhite quail and other early successional wildlife species such as rabbits and songbirds.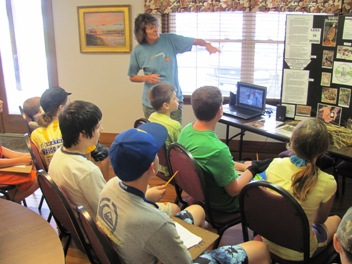 While any good biologist will tell you that true restoration success depends upon habitat creation and management at a landscape scale, this simply is not possible in all areas of every state in the Northern Bobwhite range. We should certainly focus on the areas where habitat work has the potential for the greatest success, but what about the other areas of our states? Essentially we have two options for these cases — give up altogether, or find other ways to influence the future for quail. And since quail folk aren't quitters, we keep trying and trying.
While our ultimate goal will always be the rebound of quail populations via habitat restoration, on rare occasions we encounter situations where we find success via other avenues. Case in point are the efforts of landowners in Gloucester and Mathews Counties, Virginia, where several citizens are leading the charge for quail … and in so doing are redefining success.
Nancy Grimstead is a retired school teacher who owns a small family property in Mathews County. After a career of service through education she came into contact with the Virginia Quail Team in 2011, signing up for the Quail Management Assistance Program run by the Virginia Department of Game and Inland Fisheries.
Having been in Mathews for years, she remembers the days when quail were plenteous. When asked for her opinion about quail declines in the area, she likes to target riding lawnmowers. She realizes that humans just have to have everything clean, and on an agricultural or residential scale, this is bad for the quail. When we made the initial visit to her residence, we did not have any idea what door was being opened for us. With a small property, she would only be able to do a relatively small amount of quail-benefitting habitat work (which she has done). But unlike most folks she decided to try to help the quail in other ways.
As it turns out, Grimstead grows and sells native wildflowers at a local farmer's market under the heading of "Weeds & Company."  She says that 12 years ago when she started her little business, there was no demand, but through time the public has become more receptive to the native species that she sells. As a native plant specialist, the fit with quail made perfect sense so Grimstead began distributing brochures and spreading the word about quail conservation.
More recently, she developed a three-fold display reviewing everything from quail habitat needs to debunking the notion that pen-raised birds are the
answer to our problems. She has also helped spread the word by giving a quail presentation to local 7th graders, teaching a wildflower-oriented class at a local summer camp, and re-adapting her business' outreach materials – stickers, bumper stickers, and bookmarks – to say "Think Habitat: Weeds and Company" with a quail logo.
Though all of her efforts have not been without criticism – for example, one gentleman who has given her a hard time blames Wild Turkey for the decline in quail – Grimstead has brought Bobwhite to the public eye, touched the hearts of many, and truly redefined success.
Though it is hard to say if quail numbers will ever turn around in Mathews, success has been achieved on other fronts and, hopefully, it has only just begun. We applaud her for her efforts and what she has inspired.
Amazingly, in neighboring Gloucester County, once again the Quail Program has found a landowner to take up the cause. In the summer of 2012, we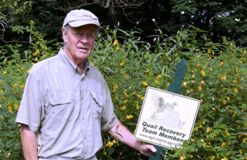 made a site visit along with NRCS District Conservationist Michael Combs to the 488-acre historic Elmington property managed by Blair Farinholt.
Growing up in Gloucester, Farinholt remembers the days when birds were everywhere. Though he has been in the real estate business for over 50 years, his passion without a doubt has been the Northern Bobwhite quail. It makes sense that he was hired over 25 years ago to manage the Elmington property and during this period he has balanced agricultural objectives with a matrix of habitats from native warm season grasses to a variety of shrub hedgerows. He is proud to have multiple coveys on the land, but not satisfied with letting the Elmington property boundaries define his influence, Farinholt looked for more.
When Michael Combs went out with us that hot summer day in 2012, little did the two of us know that our site visit was a "set up" of sorts, for Farinholt had a grand plan to hold a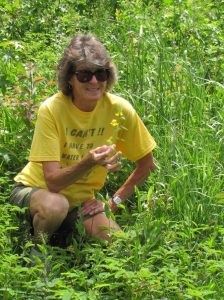 quail workshop in Gloucester.  And so it unfolded, with Farinholt working with nearby Brent & Becky's Bulbs, a well-known local daffodil grower, to plan, organize and advertise a quail workshop largely without outside help.
Though the Virginia Quail Team helped with getting a team of three expert speakers together and some advertising, Farinholt truly took the lead. The result? It was a well-run workshop with over 100 participants from counties near and far, as well as local media representation.
But Farinholt was not willing to quit there. He has targeted local landowners and farmers to set aside field border strips for quail in the fall. And, after getting advice regarding good quail habitat species, Farinholt bought Switchgrass, Coastal Panicgrass, Partridge Pea, Lanceleaf Coreopsis and Black-eyed Susan in bulk and, in partnership with Brent & Becky's Bulbs, has packaged and distributed packets of the mix to all who want it. Free-of-charge! At last count over 100 packets had been picked up with a second load ordered. The Quail Team's quail cooperator signs are now popping up here and there throughout the county as more landowners get involved.
We could go on about Farinholt's efforts. The media blitz regarding quail … the outreach efforts to a local Garden Club and Rotary Club … the Virginia Nursery & Landscaping Association's Field Day and Summer Tour. The list will only grow, we are sure, as long as Farinholt is around.
All-in-all, Grimstead and Farinholt are some of Virginia's best examples of landowners who have truly answered the call of the Bobwhite. Though Virginia's Quail Team, headed by the Virginia Department of Game and Inland Fisheries, Natural Resources Conservation Service and Virginia Tech Conservation Management Institute, is doing what it can for Northern Bobwhites in Virginia, government alone cannot restore quail to their native range. We need more landowners who spearhead local success. Whether they are in areas of low, medium or high habitat restoration potential, we need more Grimsteads and Farinholts.  Period. Their efforts are contagious. Once one landowner gets excited about quail restoration, others follow.
For example, we'd be remiss if we did not mention Beverly Holmberg who has, in turn, picked up the torch from Nancy Grimstead in spreading the word about the Quail Program in Mathews. Accordingly, we have been able to hold multiple quail-oriented events in the county, including a lecture and field tour.
Yes, while biological response will always be our greatest goal, hopefully we'll all agree that landowners like these are truly redefining success.